One of the greatest shooters of all time, Ray Allen was a two-time NBA champion. The first ring came in 2008 during his time with the Boston Celtics. Along with Kevin Garnett, Paul Pierce, and Rajon Rondo, Allen had formed the first modern-era super team. Despite them winning just one ring together, they will be remembered as one of the best lineups of the late 2000s.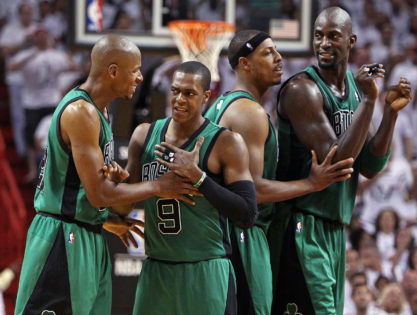 During the 2012 Free Agency hit, Allen rejected a two-year deal to return to the Boston Celtics. Instead, he inked a three-year deal with the Miami Heat to join LeBron James. In his autobiography, he explained that he left because the Celtics were paying him less money and were also planning to bench him. That's why he decided to take his talents to South Beach and team up with LeBron James and Dwyane Wade.
That move strained his relations with his former teammates Garnett, Pierce, and Rondo.
Ray Allen says he has buried the hatchet with Pierce
On Monday, he spoke to Ernie Johnson on NBA on TNT. While discussing his current relationship with his former Boston teammates, Allen said, "I had a conversation with Paul when we spent some time together in China on a trip, a couple of years back. We had a conversation, somewhat bury the hatchet but the other guys I (still) haven't spoken to."
View this post on Instagram
Not happy with his other teammates at Boston Celtics
He continued to express his disappointment over how despite the achievements, the hate never died down. "To me, it is a shame because you've done something so special with a group of guys that you're forever immortalized in that city, in those rafters. It's upsetting to know (the way) that those guys feel about me when all I did was sign a contract with another team." 
He admitted he tried to extend a hand but it was unsuccessful. "During the games, we played against each other, I've reached and tried to extend a hand. But after so many times when you get slighted you just say 'okay I'll just let you be you and do your thing and I won't try to impose myself on you'"
After spending five seasons with Boston, Allen joined Miami in 2012. From being part of a Big 3, he joined another Big 3, but this time as a role player. Allen will forever be immortalized for his game-saving three against the Spurs in Game 6 of the 2013 NBA Finals. "Rebound Bosh, back out to Allen, his three-pointer, BANG!" will always give the chills to any basketball fan.