Utah Jazz 2020-21 NBA Schedule: Important Fixtures Involving Blazers, Nuggets and More
Published 12/07/2020, 11:11 PM EST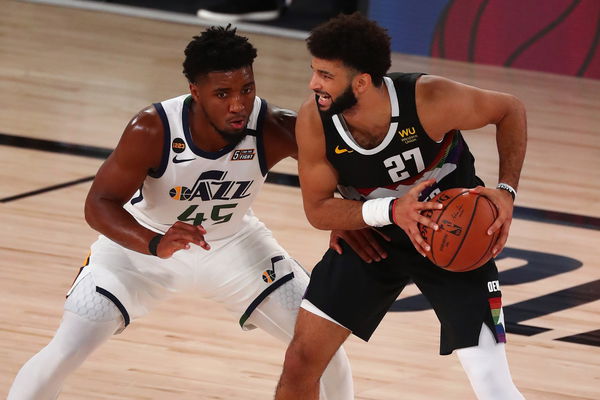 ---
---
Once again, the Northwest Division is the most competitive among all the others in the NBA. Even last season, four teams from this division alone made it to the playoffs, and the Denver Nuggets became the Western Conference finalists. However, the Nuggets had to stomp over the Utah Jazz to get there, and they did so, brutally.
ADVERTISEMENT
Article continues below this ad
The Utah Jazz fell prey to the Nuggets' quest of overcoming a 3-1 deficit. But it seems like the Jazz has championship ambitions this season and by forming an even better team this offseason, one can't say that Utah doesn't have a chance at all.
As the new season begins on December 22, Utah Jazz has made their partial schedule announcement very creatively on Twitter. They've made the entire video look like a battle in video games. Their fixtures start from December 23 to March 3, in this unique 72-game schedule.
ADVERTISEMENT
Article continues below this ad
Top Matchups
Jazz vs. Blazers
Their season opener will have them face to face with the Portland Trail Blazers. Although they won two of the three games against them last season, they did struggle to slow down Damian Lillard. This is exactly what happened with the Nuggets.
Their inability to stop top scoring guard like Jamal Murray led to their premature exit from the Bubble. So, this will be a good test of whether the Jazz solved issues on their defensive end.
Jazz vs. Nuggets
What's better than putting the Jazz against a team who humiliated them last season, recovering from a 3-1 deficit. However, the Nuggets had one of the worst offseasons this year. So, with new stars like Bogdan Bogdanovic and Mike Conley, it's likely that the Jazz will get to take revenge on them.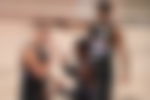 Jazz vs. Lakers
Utah just didn't know how to tackle the Lakers, losing all three meetings against the reigning champions last season. With a very active offseason, the Lakers have also done some roster re-building themselves. They are the favorites to repeat as title holders, so it won't be easy for the Jazz to match up to that.
ADVERTISEMENT
Article continues below this ad
The two only meet once in the first half of the released schedule. But this could be an eye-opener for the Utah Jazz about where they stand in contention.
Utah Jazz partial schedule for the 2021 season
Dec 12 (7:00 pm EST)

Home

Phoenix Suns

(Preseason)

Jan 26 (7:00 pm EST)

Home

New York Knicks

Dec 14 (7:00 pm EST)

Home

Phoenix Suns

(Preseason)

Jan 27 (7:00 pm EST)

Home

Dallas Mavericks

Dec 17 (8:00 pm EST)

Away

LA Clippers

(Preseason)

Jan 29 (8:00 pm EST)

Home

Dallas Mavericks

Dec 23 (7:00 pm EST)

Home

Portland Trail Blazers

Jan 31 (1:30 pm EST)

Away

Denver Nuggets

Dec 26 (6:00 pm EST)

Away

Minnesota Timberwolves

Feb 2 (7:00 pm EST)

Home

Detroit Pistons

Dec 28 (7:00 pm EST)

Home

Oklahoma City Thunder

Feb 4 (5:30 pm EST)

Away

Atlanta Hawks

Dec 31 (7:00 pm EST)

Home

Phoenix Suns

Feb 5 (5:00 pm EST)

Away

Charlotte Hornets

Jan 1 (5:00 pm EST)

Away

LA Clippers

Feb 7 (11:00 am EST)

Away

Indiana Pacers

Jan 3 (5:30 pm EST)

Away

San Antonio Spurs

Feb 9 (8:00 pm EST)

Home

Boston Celtics

Jan 5 (5:30 pm EST)

Away

Brooklyn Nets

Feb 12 (7:00 pm EST)

Home

Milwaukee Bucks

Jan 6 (6:00 pm EST)

Away

New York Knicks

Feb 13 (7:00 pm EST)

Home

Miami Heat

Jan 8 (1:00 pm EST)

Away

Milwaukee Bucks

Feb 15 (7:00 pm EST)

Home

Philadelphia 76ers

Jan 10 (5:30 pm EST)

Away

Detroit Pistons

Feb 17 (8:00 pm EST)

Away

LA Clippers

Jan 12 (5:00 pm EST)

Away

Cleveland Cavaliers

Feb 19 (8:00 pm EST)

Away

LA Clippers

Jan 13 (7:00 pm EST)

Home

Washington Wizards

Feb 22 (7:00 pm EST)

Home

Charlotte Hornets

Jan 15 (6:00 pm EST)

Away

Atlanta Hawks

Feb 24 (8:00 pm EST)

Home

Los Angeles Lakers

Jan 17 (7:00 pm EST)

Home

Denver Nuggets

Feb 26  (6:00 pm EST)

Away

Miami Heat

Jan 19 (8:00 pm EST)

Home 

New Orleans Pelicans

Feb 27 (5:30 pm EST)

Away

Orlando Magic

Jan 21 (3:00 pm EST)

Home

New Orleans Pelicans

March 1 (6:00 pm EST)

Away

New Orleans Pelicans

Jan 23 (7:00 pm EST)

Home

Golden State Warriors

March 3 (5:00 pm EST)

Away

Philadelphia 76ers
ADVERTISEMENT
Article continues below this ad