After Rudy Gobert contracted the coronavirus back in March, the NBA announced that the 2019-20 season would be suspended. Later, his teammate Donovan Mitchell also contracted the virus, for which he blamed Gobert. This lead to some tension between the two. But a couple of days back, Mitchell said, "right now we're good," something also confirmed by Gobert.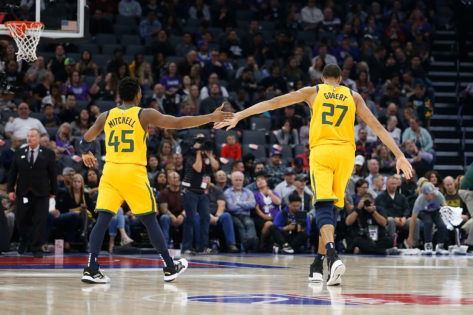 "No one expects it to be perfect, and it's never gonna be perfect. I've never had perfect relationships — with my teammates or even my family members or pretty much anyone that's around me," said the two-time DPOY, as reported by the Salt Lake Tribune. "But, you know, as long as we respect one another and we both share the same goals and we both do what's best for the team, that's what matters."
Rudy Gobert wants to win a championship at Utah
When the suspension saga happened, Gobert was blamed by everyone. He says that was a tough period."Obviously, when you have the whole world judging you, and threatening you, sending you a lot of negative energy, it's something that I would say is not easy as a human being," Gobert said.
There were rumors that either Mitchell or Gobert would leave because of their fallout, but those speculations are laid to rest now. On his part, Gobert said he has no plans of leaving anytime soon. "First of all, I'm really happy in Utah. I love living here — that's the No. 1 thing. The No. 2 thing, I want to win. … With Quin [Snyder] and the things we've been building over the years, it's something that you don't see anywhere else, and that's something I take a lot of pride in. "So no, I don't plan on leaving right now," he added. "I plan on winning a championship in Utah."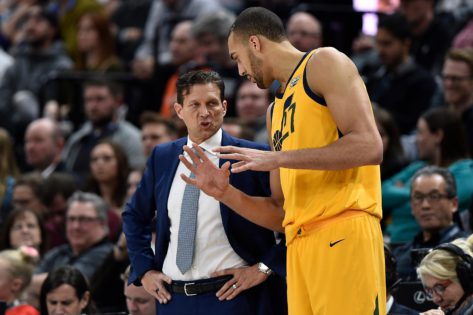 Since Mitchell arrived in Utah, they have made the playoffs every year. His offensive ability, combined with Gobert's defensive prowess, has been the key to Utah's success in the regular season. They have made it to the playoffs for the fourth year in a row now, but their challenge is to go beyond the first two rounds. With Bojan Bogdanovic out, the task will be tougher, but Gobert will certainly be motivated to make a statement performance.