NBA News: Jazz Players Clearly "Frustrated" by Rudy Gobert's Antics
Published 03/13/2020, 3:09 AM EDT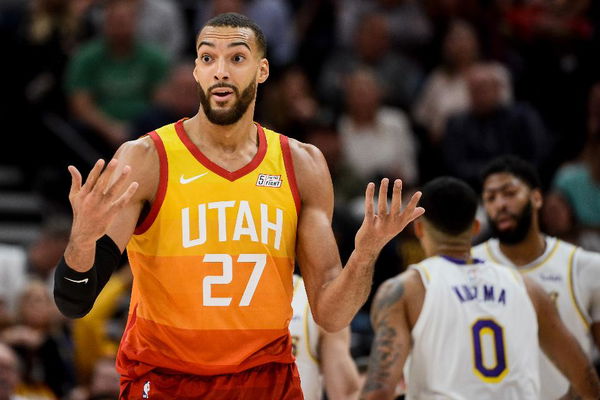 ---
---
Rudy Gobert who was tested positive for the COVIN-19 on Wednesday has certainly generated some "frustration" among his teammates and in the whole NBA community.
ADVERTISEMENT
Article continues below this ad
After Gobert's positive test, all of his teammates were tested for the deadly coronavirus. And in one of those results, star Donovan Mitchell turned positive for the virus. That is to say, Mitchell clearly wasn't too happy about it.  He released a statement on Instagram ripping Gobert for his carelessness.
Below is the statement from Mitchell:
ADVERTISEMENT
Article continues below this ad
This careless behavior of Rudy can also be seen in the Monday press conference where he "jokingly" touched all the microphones and recorders of journalists. Although he later apologized for his ridiculous act.
But till then it was clearly too late for any apologies.
"There is a lot of frustration" amid NBA suspension
ADVERTISEMENT
Article continues below this ad
According to ESPN's Adrian Wojnarowski, "The Jazz are fortunate that they don't have to get back together and start playing games again right now. There is a lot of work to do to repair relationships…there's a lot of frustration with Gobert."
It is understandable that Utah Jazz and the NBA as a whole are going through some tough and unprecedented crisis. And while dealing with this crisis, we should also remember that this is absolutely no time for indulging in the blame game or putting your anger out on one player, in this case, Rudy Gobert.
Yes, he was careless but he absolutely does not mean any malice to his team and players. And going further this scenario of putting your frustration on someone will not going to solve this crisis in hand.
ADVERTISEMENT
Article continues below this ad
This whole fiasco has made one thing absolutely clear. That this is no time to joke around or indulge in some kind of stupid behavior. Rather it's the time where we need to stay vigilant, alert and should take all consideration possible for the well being of people around us.