Was Kyrie Irving Responsible for Kenny Atkinson's Firing?
Published 03/08/2020, 5:00 AM EDT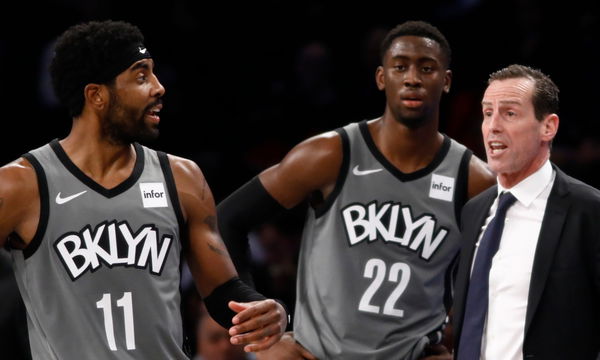 ---
---
The stunning news came out of Brooklyn when the team announced that it had mutually parted ways with head coach Kenny Atkinson. The culture Atkinson had built within the franchise during his tenure at the helm, the thought of the two sides parting ways mid-season was a bit of a shock. The culture was also one of the main factors that attracted stars like Kyrie Irving and Kevin Durant to Brooklyn.
ADVERTISEMENT
Article continues below this ad
The Nets are in seventh place in the Eastern Conference standings. There are 19 games left in the regular season and Brooklyn is fighting for a playoff spot.
These circumstances are why people were shocked at the timing of the Atkinson move.
ADVERTISEMENT
Article continues below this ad
Kyrie Irving and his role in Atkinson's firing
Irving soured on Atkinson early and currently prefers Clippers assistant Tyronn Lue to be the team's next head coach.
Kyrie Irving 'soured' on Kenny Atkinson early in the season and currently prefers Tyronn Lue to be the Nets' next head coach, per @VinceGoodwill

— NBA Central (@TheNBACentral) March 8, 2020
Irving only played in 20 games this season because of his shoulder injury. It looks like that was enough for him to know Atkinson wasn't the guy who was going to lead the Nets to the promised land.
There seemed to be friction from the start, the team's rigid methods seemed to clash with stars like Irving. There's always pushback from even the most mild-mannered players to agreeable types. Let alone strong personalities that don't keep their thoughts to themselves.
ADVERTISEMENT
Article continues below this ad
Irving and Lue's paths previously crossed in Cleveland, where the two won a championship in 2016. Lue joined the Cavaliers as an associate head coach in 2014 and was later named head coach in 2016. He has since spent time on the Clippers' staff as an assistant coach after being fired from the Cavaliers at the start of the 2018-19 season
ADVERTISEMENT
Article continues below this ad