WATCH: Denver Nuggets Center Totally Breaks Anthony Davis' Defence
Published 09/20/2020, 11:03 PM EDT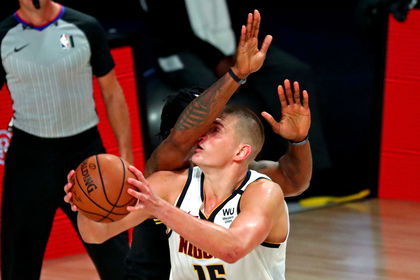 ---
---
The Denver Nuggets lost their second game against the Lakers in the Western Conference finals. The Lakers looked totally in control of the game and maintained the lead right from the beginning when it was just seven minutes into Q1. It seemed like a replica of game 1 until Nikola Jokic decided he wouldn't give an easy victory to the Lakers. 
ADVERTISEMENT
Article continues below this ad
Denver Nuggets center came down heavily on the Lakers
With less than three minutes left for the game to end, the Nuggets were still trailing by 8 points. There was no way they could shrink that deficit without something magical coming from Nikola Jokic. The center didn't disappoint, and he scored 11 back-to-back like a bucket machine and changed the results from 92-100 down to 103-102 up. 
ADVERTISEMENT
Article continues below this ad
When Anthony Davis totally failed to defend a stubborn Jokic, the commentators exclaimed, "Jokic made Anthony Davis, a first-team All-NBA performer, second in Defensive Player of the Year, he made him look like a junior varsity player right here."
The big man Jokic converted his first three-pointer from behind the arc just when it was most needed. His clutch time play should have been good enough for the Nuggets to close the game with a victory, but they could not capitalize the last few seconds.
ADVERTISEMENT
Article continues below this ad
Nikola Jokic can prove to be a problem in the coming games
The Lakers will not have it easy against the 7-footer who has been scoring an average of 25+ points in every playoff game. In Game 2, Jokic had 30 points, 6 rebs, 9 assists, and an insane 91.7% FT accuracy as he shot 11 of those. 
In the last three seconds, Alex Caruso missed a shot from downtown, whereas Jamal Murray blocked Danny Green in a classy manner. The only thing that the Nuggets lacked was the possession and that cost them the game. 
ADVERTISEMENT
Article continues below this ad
The Nuggets coach had earlier said that they had come to this league to make a comeback from 1-3 down. For that equation to reappear, the Nuggets now have to win the next game on Tuesday. Can they replicate their Game 2 clutch time performance throughout the next game? Only time will tell.