WATCH: Lakers New Hires Make Their Debut in Training Camp
Published 12/07/2020, 12:22 AM EST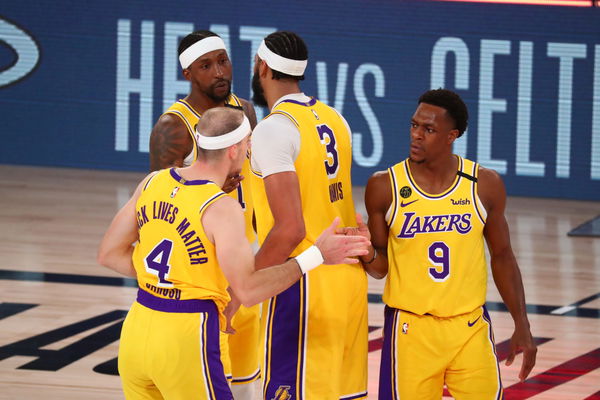 ---
---
The Los Angeles Lakers are back on the court, conducting their first practice just two months after winning their 17th NBA Championship. This comes with their first preseason game being scheduled a week after against their unsaid rivals, the LA Clippers. Before diving into what training camp might have been like and what questions it raised, here are what the new Lakers' hires look like on the court.
ADVERTISEMENT
Article continues below this ad
This offseason was full of moves for the purple and gold. Gone are Dwight Howard, Danny Green, Avery Bradley, Rajon Rondo, and JaVale McGee. But the Lakers did an outstanding job finding pieces to fill these spots. Through trades, Dennis Schroder and Marc Gasol have joined the team. And through free agency, they got Montrezl Harrell and Wesley Matthews.
The players that were re-signed include Anthony Davis, Jared Dudley, and Kentavious Caldwell-Pope. Even LeBron James signed another 2-year extension with the Lakers. By the looks of it, it seems like the Lakers are thrilled to have these players as the training camp begins. They filled up their social media accounts, giving a sneak peek of what's to come along with player reactions.
ADVERTISEMENT
Article continues below this ad
Questions surrounding the Lakers roster
Other than Davis and LeBron James, no other players have a guaranteed spot in the starting lineup. As soon as Schroder joined the Lakers, he expressed his desire to be the starting point guard. Although he makes a strong case for this, his stats show that his scores are better coming off the bench. So it's possible Frank Vogel won't experiment much with that.
ADVERTISEMENT
Article continues below this ad
Normally, NBA finalists get approximately up to 100 days before the next season begins. This gap is necessary for the players to rest and prepare for optimal performance. However, due to the pandemic, there have been too many changes in the schedule and the teams can do nothing but keep their players from getting injured before regular-season starts.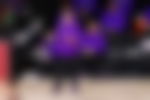 The Lakers roster is filled with talent to the brim. Without a doubt, they are one of the top title contenders. But with the unpredictable way in which the seasons are being held, the team's chances of a repeat are a question mark.
ADVERTISEMENT
Article continues below this ad