WATCH: Raptors Guard Kyle Lowry Agitates Opponent With His On-Court Antics
Published 08/21/2020, 3:48 PM EDT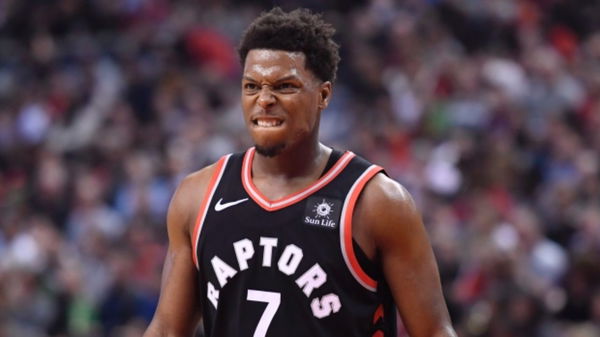 ---
---
The Toronto Raptors look strong in their first-round series against the Brooklyn Nets. They've got off to a 2-0 start, with Game 3 looking very much in their favor. As both teams locked in for the third game in the series, it was the defending champions who played their way to make a dominant start. The first-half went along well for the Raptors, and a moment from Kyle Lowry grabbed everyone's attention!
ADVERTISEMENT
Article continues below this ad
The Raptors gained a seven-point lead in the first quarter and looked set to maintain the pace for the rest of the game. Fred VanVleet picked up right where he left off for Toronto. But one significant moment early in the second quarter caught the eyes of the camera, captivating the audience. 
With about ten minutes left in the quarter, Lowry attempted a quick layup but was denied by the Nets' defense. Then, Brooklyn began coming fast in transition and the Raptors had to defend this time. 
ADVERTISEMENT
Article continues below this ad
As they spread the ball to the right-wing, Caris LeVert received it with teammate Justin Anderson setting a screen for him. As Anderson attempted to disrupt Lowry's defense, he made a slight bump on to his back, which was then met with an immediate reaction from 34-year-old Kyle Lowry. 
Lowry responded to the bump with a dramatic reaction, after which the officials blew the whistle. Expectedly, Anderson wasn't happy with his opponent's antics that gained him a foul. After receiving a technical, he was seen saying "stop flopping," to Lowry when he was at the free-throw line. 
Raptors guard sinks unbelievable buzzer-beater to make the best shot of his career
The Raptors seem to be getting more confident with every win they record inside the Bubble. They started off with a 2-0 victory in their first-round series against the Nets. Undeniably, a lot of credit can be showered upon Fred VanVleet for stepping up and delivering during big moments. 
VanVleet once again continued with his sublime form and fired early for the Raptors in Game 3. With the time clock in dying seconds during the second quarter, he launched the ball from way downtown to beat the buzzer and make the shot. 
ADVERTISEMENT
Article continues below this ad
It would have been a thundering atmosphere if fans were present. But even so, VanVleet's ridiculous 52-footer would have stunned everyone who was watching the game from anywhere around the world. The 26-year-old didn't show much excitement, but his teammates on the bench celebrated in amazement! 
ADVERTISEMENT
Article continues below this ad
Fred VanVleet is proving to be the game-changer for the Raptors so far in the playoffs. He is currently averaging 27.0 points and 10.5 assists in the series against the Nets. With the Raptors looking dangerously good, will they retain their crown as champions?