WATCH: Sixers' Joel Embiid Displays Wonderful Athleticism to Steal the Ball
Published 08/17/2020, 8:13 PM EDT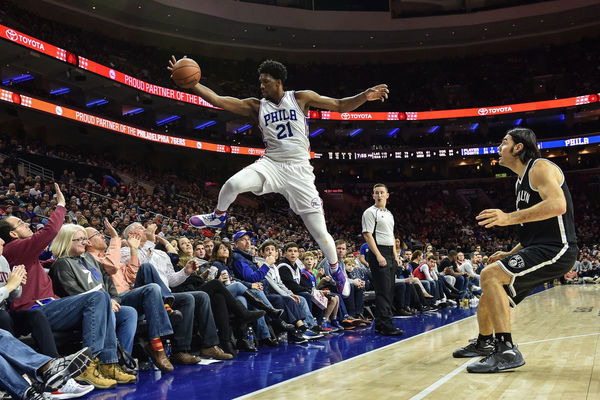 ---
---
The Philadelphia 76ers faced the Boston Celtics in their first-round match of the 2020 NBA playoffs. Without Ben Simmons on the team, Joel Embiid was under pressure to step up. Embiid displayed a strong first-half performance, getting 13.0 points, 9.0 rebounds and 1.0 steal. Now, the one steal might not look a big number, but Embiid's effort to make the steal was truly a fantastic effort from the big man. 
ADVERTISEMENT
Article continues below this ad
The Sixers were trailing the Celtics by four-points with about three minutes remaining in the second quarter. Joel Embiid attempted a turn back jumper while being guarded by Enes Kanter, but the Sixers' center failed to make the shot and fell to the ground on his back. 
The Celtics got the rebound from Embiid's failed shot and made a quick transition to the offensive end. As Gordon Hayward drove to the three-point line, he saw Kemba Walker make a run on the right-wing and tried to deliver a quick air-ball to him. 
ADVERTISEMENT
Article continues below this ad
Now, Embiid, who had just fallen to the ground, saw the transition, judged Hayward's vision, and intercepted the ball brilliantly. The 7-foot center made a huge leap to stop the ball from reaching Kemba's hands. With a wonderful display of athleticism, Embiid created a quick turnover. Here is the video of the swift and attentive play by Embiid: 
Sixers star Joel Embiid needs to turn his burden into success
ADVERTISEMENT
Article continues below this ad
Joel Embiid is under tremendous pressure coming into the playoffs. The Sixers looked a promising team with the likes of Ben Simmons and Embiid shaping up to be a good duo in the league. However, Simmons is out for the rest of the season with a knee injury. 
Now, all the hopes lie on Embiid to carry the team on his shoulders. Of course, the Sixers have a deep roster, and starters like Tobias Harris can pull off clutch plays under pressure. But the focus point of the team is the three-time All-Star in Embiid. 
The 26-year-old made a robust start to the 2020 playoffs, by leading his team in points and rebounds in the first half of their game against the Celtics. We're pretty sure he'll be the top scorer for the Sixers in this playoff series. 
ADVERTISEMENT
Article continues below this ad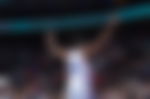 As a team, the 76ers look pretty unconvincing in ball movement without Simmons to facilitate them. They had 13 turnovers in the first half, a stat which would not go down well with coach Brett Brown. If Embiid can get to sustain his act together for a longer run in the playoffs, the Sixers can thrive under his leadership.