WATCH: When Lakers Legend Kareem Abdul-Jabbar Fought Bruce Lee For a Movie
Published 06/07/2020, 6:25 PM EDT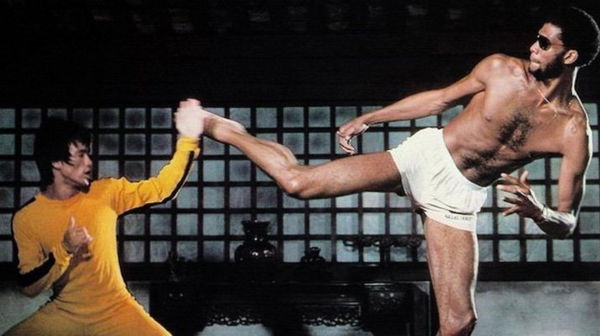 Imagine a 5'8″ person standing in front of someone who is 7'2″. NBA legend Kareem Abdul-Jabbar once fought Bruce Lee for a movie scene. The respective careers of Lee and Jabbar grew at a similar time. When Kareem was establishing himself as an NBA star, Lee found his breakthrough into Hollywood.
ADVERTISEMENT
Article continues below this ad
Last year, Jabbar wrote an article in Hollywood reporter where he expressed his discontent over the portrayal of his friend, Bruce Lee, in Quentin Tarantino's Once upon a time in Hollywood.
"Filmmakers have a responsibility when playing with people's perceptions of admired historic people to maintain a basic truth about the content of their character. Quentin Tarantino's portrayal of Bruce Lee in Once Upon a Time in Hollywood does not live up to this standard," he wrote.
ADVERTISEMENT
Article continues below this ad
When Jabbar was into his fourth season with Los Angeles Lakers, he was a part of the movie "Game of Death." Jabbar, who was the villain in the movie, had a scene fighting Lee.
Here is the scene where Lee fights Karee Abdul-Jabbar-
It was during this film that Lee got an opportunity to work for Enter the Dragon. Lee died during the production of the movie and Game of Death released only after his death.
Training with Bruce Lee helped Kareem Abdul-Jabbar
ADVERTISEMENT
Article continues below this ad
In a recent appearance on Sportscenter, Abdul-Jabbar talked about the impact of Bruce Lee on his career. He said it was training with the martial artist that had helped him attaining longevity in his career.
"Bruce always emphasized the effectiveness of stretching," he said. "So before we worked out we stretched all the time. And that was it. I took that to another level by studying yoga and being able to advance as a yoga student, and that really was the best preventative maintenance that I could have been doing in the offseason."
ADVERTISEMENT
Article continues below this ad
Kareem Abdul-Jabbar finished as the NBA's leading all-time scorer. Playing sic years for Milwaukee Bucks and 14 years for Los Angeles Lakers, he won six NBA titles and six MVP awards. Over his 20-year career, he was a 19-time all-star. He is among the best players to have played in the league.