A few days ago, Damian Lillard told Yahoo Sports it was unlikely he'd play if the NBA returned. There are talks that a few games will be laid out before the proposed playoffs to fulfill contractual obligations with television networks.
"If we come back and they're just throwing us out there for meaningless games and we don't have a true opportunity to get into the playoffs, I'm going to be with my team because I'm a part of the team. But I'm not going to be participating."
Talks with Disney are still ongoing to continue the games at Disney World. It seems very likely that the league will head straight to the playoffs, much to the disappointment of Lillard and his teammates.
Out of the blue, former NFL player Dan Orlovsky has called out Lillard for making those statements. The Blazers guard was termed "entitled" and a "spoiled brat" by Orlovsky, who is now an analyst with ESPN. "How can you sit there and go, 'Nope, I'm not going to play, but understand that there are people out there that don't have that choice? I struggle with sitting here and going 'you don't come off, in some way, a spoiled and entitled brat by saying I'm not going to play."
Damian Lillard: poles apart from being entitled
Entitled and spoiled? Mf watch yo mouth. My background , family, and character couldn't be further FROM entitled and spoiled. I said what I said! https://t.co/yM30aU5xl2

— Damian Lillard (@Dame_Lillard) May 28, 2020
Lillard immediately responded to Orlovsky on Twitter. Unlike Orlovsky's statements, Dame Dolla is far from entitled. He grew up in Oakland, one of the most crime-ridden cities in the country. "Oakland streets are no joke. It's a little different for us coming out of there," says native and retired NBA legend Gary Payton. "(Lillard's) got so much dog in him and that's what I love about him. That's what he carries from Oakland in his game to the NBA now."
One of the most hardworking players in the league now, Lillard has come a long way. While playing in college, he was sidelined for a year with a gruesome foot injury. He successfully came back strong the next year and entered the 2012 NBA Draft as the #1 ranked PG. Few players have been as consistent as him since he entered the league.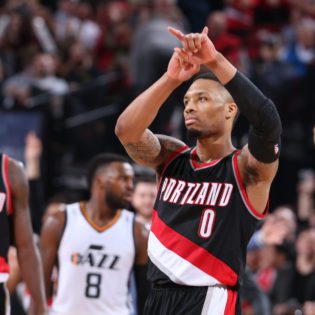 Orlovsky's statements were so ignorant that even his colleague Domonique Foxworth rubbished his claims. "I think it's kind of an absurd analogy,"  Foxworth said. "No one has to play basketball. We don't have to watch basketball. It's terrible that some people have no choice in this matter, but that doesn't mean Damian Lillard has to play basketball."
So if Damian Lillard decides to sit out because his team can't make the playoffs, let him. He's earned his right to rest, regardless.