"We Had the Best Record in the NBA": Charles Barkley Talks About Why He Deserved the 1993 MVP Award Over Michael Jordan
Published 05/26/2020, 5:23 PM EDT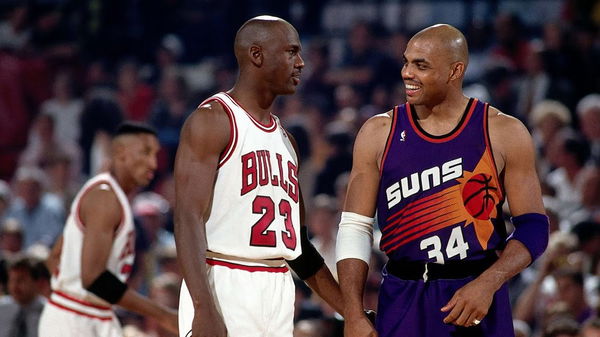 ---
---
The main conclusion drawn from the "Last Dance" documentary of Michael Jordan is to not make him upset. The way he channels this competitive spirit into buckets has made him one of the best to play the game. When Jordan finished 3 in MVP Voting in 1993, he used it as motivation to win the NBA championship. His Bulls' team beat the MVP Charles Barkley's Phoenix Suns and successfully completed a three-peat.
ADVERTISEMENT
Article continues below this ad
But did Barkley deserve the MVP? He certainly thinks so. In a conversation with Adam Lefkoe on the Lefkoe show, he said, "We had the best record in the NBA. I deserve it."  He led the Suns to a 62-20 record, while averaging 25.6 points 12.2 rebounds and 5.1 assists per game, which was the best in the league. Perhaps this record is what helped him edge out Jordan, who had a better individual year. Jordan finished third in the voting, despite putting up 32.6 points 6.7 rebounds and 5.5 assists per game.
ADVERTISEMENT
Article continues below this ad
So was Michael Jordan snubbed of an MVP?
ADVERTISEMENT
Article continues below this ad
The criterion for NBA MVP is a never-ending debate. While individual performance is the most obvious factor, on many occasions, team record has decided the winner. In 1993, Barkley won because his team was the best in the league, notching five more wins than Jordan's Bulls. That is why few argue about Barkley being crowned MVP in that season.
However, Jordan is no stranger to being snubbed. His monstrous 1988-89 campaign where he put up 32.5 points, 8 rebounds, 8 assists, 2.9 steals per game was ignored and Magic Johnson took away the title instead. Johnson averaged 22.5 points, 12.8 assists, and 7.9 rebounds per game, leading his team to a 57-25 record. Jordan's undoing was his team record of 47-35. But when it comes to influence, Jordan was far superior to Johnson. After Jordan, the next top scorer on the team was Scottie Pippen who just 14.4 points while Johnson had two other teammates averaging over 20 points per game.
Jordan was robbed again in the 1996-97 season when he averaged 29.6 points, 5.9 rebounds, 4.3 assists and 1.7 steals per game on a team that won 69 games. The winner was Karl Malone who ended up 27.4 points 9.9 rebounds and 4.5 assists per game. He narrowly won MVP despite the Jazz having five lesser wins than the Bulls, finishing with a 64-18 record.
ADVERTISEMENT
Article continues below this ad
So Jordan was indeed robbed of much-deserved MVPs. Barkley may have edged him in 1993, but 1989 and 1997 were brutal exclusions for His Airness.