"We Will Not Ignore Senseless Violence": New York Knicks Legend Releases a Strong Statement on George Floyd's Death
Published 06/02/2020, 3:54 AM EDT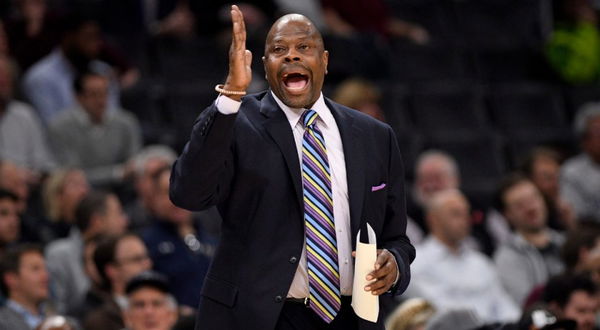 ---
---
New York Knicks legend and NCAA coach Patrick Ewing released a statement in the wake of George Floyd's death. He believes everyone has a responsibility to speak against injustice.
ADVERTISEMENT
Article continues below this ad
"We have a responsibility and a platform to speak out against racism and injustice, we will not be silent. We will not ignore senseless violence and brutality, we will be a part of the solution," he said in the statement that he released via his Twitter.
Ewin played 15 years for the Knicks between 1985 and 2000. An 11-time All-Star during that period, he is one of the best players to have played for the franchise. After the end of his playing career, he went to coaching. He worked as an assistant coach for various NBA teams before becoming the head coach of Georgetown Hoyas in the NCAA in 2017.
ADVERTISEMENT
Article continues below this ad
"We stand with those mourning the death of George Floyd and countless others who have senselessly lost their lives in tragic acts of racial injustice. It's time for our voices to be heard," his statement further read.
Patrick Ewing's statement came soon after New York Knicks owner sent an email explaining why his team didn't release a statement
ADVERTISEMENT
Article continues below this ad
A week after Floyd's death, people across the nation continue to protest against the issue. Many famous personalities have raised their voice over racial discrimination in the nation. Many in the NBA have released statements and participated in rallies supporting the cause.
Minneapolis Police kill a black man on 38th and Chicago.

He is screaming, "I can't breathe" as police drive their knee on his throat for over three minutes. pic.twitter.com/1hhBLAqy8K

— Keaon Dousti کیان (@KeaonDousti) May 26, 2020
Watch This Story
ADVERTISEMENT
Article continues below this ad
The statement from Ewing came soon after his former team's owner explained why they have not released any public statement. The Knicks were the only NBA team other than San Antonio Spurs that did not release a statement on Floyd's death. While the Knicks players and employees were reportedly angry over it, their owner Jim Dolan wrote an e-mail explaining why they did not release a statement.
"As companies in the business of sports and entertainment, however, we are not any more qualified than anyone else to offer our opinion on social matters," he wrote in the e-mail. "What's important is how we operate. Our companies are committed to upholding our values, which include creating a respectful workplace for all. And that will never change.