"We're Excited": Golden State Warriors Coach Breaks Silence on Klay Thompson's Comeback
Published 09/24/2020, 12:15 AM EDT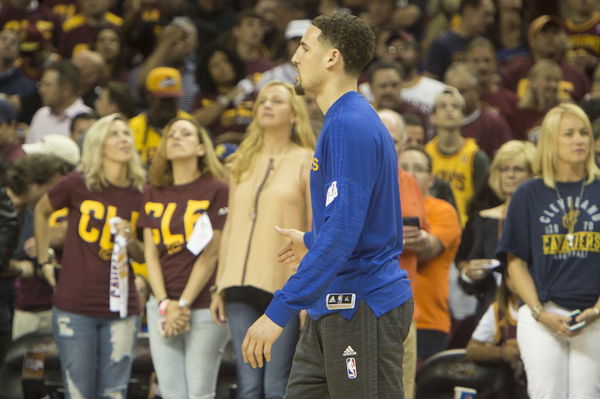 Golden State Warriors know how to remain in the news. They are possibly the top team that was left out of the Orlando Bubble but still is highly discussed. Be it the trade rumors, key players coming back after injury, changes in the front office, and organizing a minicamp, they're all over the place.
ADVERTISEMENT
Article continues below this ad
However, it is easily understandable as to why is that the case. The team that had a 5-year golden run before getting dismantled in 2019 has an enormous fan base. Every little update on the players, or even their legendary coach, matters. 
The fresh bulletin is about the star guard of the Golden State Warriors
ADVERTISEMENT
Article continues below this ad
Ever since the news of the Warriors organizing a minicamp broke, questions around Klay Thompson's participation surfaced. Earlier, it was reported that Klay will join the 2-week practice a little later in the week. Fortunately, that news is still true and sound. 
Steve Kerr said Klay Thompson worked out four or five days in a row recently. "Klay looks great, and he's anxious to play, so we're excited about that."

— Connor Letourneau (@Con_Chron) September 23, 2020
The Warriors began practice on September 23 but missed both Klay Thompson and forward Eric Paschall on the first day. Both the players are going through the COVID protocol testing and are serving quarantine. They can both expect to get the clearance this week itself.
ADVERTISEMENT
Article continues below this ad
Head coach Steve Kerr seemed very positive about Klay's comeback in an interview. He revealed, "He worked out here at the facility for several days in a row, maybe four or five days in a row with [assistant coach] Chris DeMarco, and Chris gave me really positive updates. I was here for a couple of those days and got a chance to see him, and Klay looks great. And he's anxious to play, so we're excited about that."
The negatively anxious GSW fans can now take a sigh of relief and lay back as their favorite is about to make a healthy return. 
What about other big names from the franchise?
ADVERTISEMENT
Article continues below this ad
The minicamp is not a mandatory camp for everyone to join. It is a voluntary camp that the NBA allowed teams to organize so they can come back to practice after a long, unprecedented halt. So, Stephen Curry and Draymond Green have chosen not to show up, citing family reasons. Coach Kerr totally welcomed the priority of his players when he suggested, "…they both have important family issues to attend to and so they have excused absences."
Both Curry and Green played complete seasons for consecutive years and now when their families need them, it makes sense to dodge a practice. Although, in no time the fans can expect the complete GSW roster to begin practicing in some other setting. Till then, enjoy the NBA Playoffs 2020.