What Made Jayson Tatum Choose The Boston Celtics When He Was Fixed On Joining A Different NBA Team
Published 06/23/2020, 4:44 AM EDT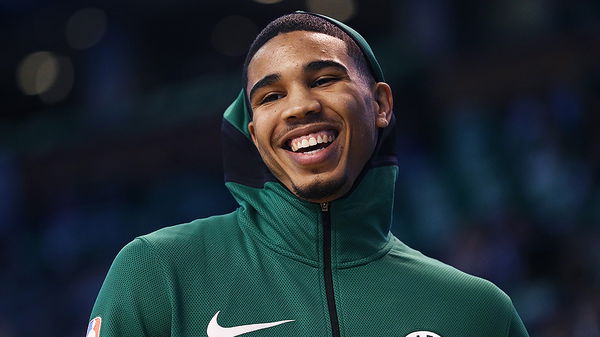 ---
---
The entry of Jayson Tatum into the NBA was a bit controversial. The Boston Celtics initially had the #1 pick in the 2017 draft and they selected Markelle Fultz. After agreeing terms with the Philadelphia 76ers, the team traded Fultz and received Tatum instead. So officially, the Celtics got Jayson Tatum as the #3 overall pick in the draft. 
ADVERTISEMENT
Article continues below this ad
Jayson Tatum's addition to the Celtics team has certainly improved their chances of staying at the top as title contenders. Boston currently stands third in their conference table, and a significant part of it can be credited to the spectacular season Tatum is having. 
The 22-year-old was averaging a career-high of 23.6 points before the season came to a halt. Tatum put up incredible performances to establish his supreme talent. Though he is currently thriving with the Celtics, fans might find it surprising when they know that Tatum never wanted to come to Boston in the first place. 
ADVERTISEMENT
Article continues below this ad
When Jayson Tatum revealed his preferred NBA destination
Last month, the Celtics forward made joined Matt Barnes and Stephen Jackson on All the Smoke podcast. When Barnes asked Tatum to share his draft day experience, the 2020 All-Star delved into a story. 
As it was clear Markelle Fultz was going to be the #1 pick, it was fixed in Tatum's mind that he was going to be drafted to the 76ers, who had the #3 pick. But a week before the draft, Tatum visited Phoenix Suns' facility, met with coach Earl Watson, their GM, and all the staff. 
When Tatum conversed with Earl Watson, they immediately hit it off. "Earl's my guy," Tatum said, as transcribed by azcentral.com. "I went to dinner with him the next day. I remember he picked me up. He had a white G-wagon (Mercedes Benz G-Class). He drove me around and showed me all of the houses where the players live at. I called my family, I called my mom I was like, I think I want to go to Phoenix."
Suns' former coach Earl Watson had convinced Tatum so much that the young forward clearly made up his mind to join Phoenix. He loved the warm welcome and the camaraderie he received, even before he officially joined the team. "I'm sitting in the car and I'm like, this sound good," Tatum said. "Yeah, I think I want to come here."
What made Tatum join the Celtics instead?
Relishing the interest he received from the Suns coach, Tatum thought Phoenix was the place to be. But it all came crashing down for the youngster with two important phone calls. Here is what happened, according to Tatum. "I get to my hotel and I'm about to fly back home (to St. Louis) for two days before I go to New York (for the draft) and my agent called me and he like, '(Celtics GM) Danny Ainge called and said they're going to trade their pick. They're going to go to three and they want you to come to Boston the next day to work out."
ADVERTISEMENT
Article continues below this ad
But his agent's call just couldn't make him switch minds. Tatum had just experienced the place where he wanted to play ball and he wasn't going to move away from it. But there was one person who could talk him out of it. Tatum played college basketball at Duke University, and his coach Mike Krzyzewski called him up and completely changed his mind. 
Tatum shared that Krzyzewski has great respect for Celtics coach Brad Stevens and wanted him to play for his team. So Jayson Tatum couldn't overrule his former coach and agreed to work out for Boston.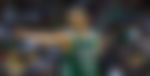 ADVERTISEMENT
Article continues below this ad
With his mind set on playing at Phoenix, Tatum flew to Boston just three days before the draft. However, all of his feelings felt worthless when he heard his name called on the draft. It didn't matter which team he played for as long as it meant that he would be playing in the NBA.
"When I finally heard my name called, it was by far the best day of my life. It's what I had been working for, for 16 years," Tatum expressed.