When An 18-year-old Dirk Nowitzki Demolished Michael Jordan, Scottie Pippen and Charles Barkley
Published 06/19/2020, 10:21 AM EDT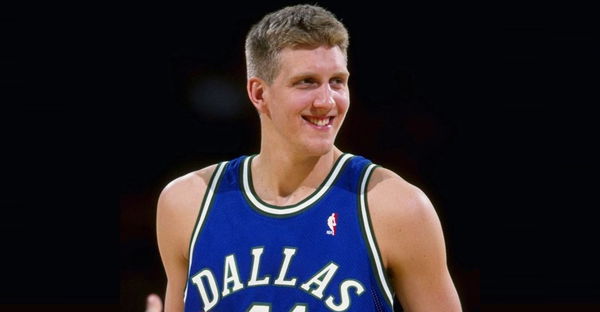 ---
---
Dirk Nowitzki is a special player. The big German is right up there as one of the best foreign players to compete in the NBA. Nowitzki left behind an untouchable legacy when he retired from the NBA in 2019. Nowitzki retired from professional basketball for good, and his celebrated 21-year-career will always be an inspiration to many young and upcoming Mavericks.
ADVERTISEMENT
Article continues below this ad
June 19 marks Nowitzki's 42nd birthday, which is today. To commemorate Dirk's legendary career on his birth anniversary, Ballislife.com posted an insanely well-compiled highlight reel of the 2007 NBA MVP. 
HBD Dirk Nowitzki aka Dirk Diggler aka The Big Mummy aka one of the greatest power forwards of all-time!

— Ballislife.com (@Ballislife) June 19, 2020
ADVERTISEMENT
Article continues below this ad
The inspirational video contains a stellar show of skills and the iconic moments from the future Hall of Famer's career. On his birthday, here is a throwback clip of Charles Barkley explaining how a teenage Dirk Nowitzki dominated against a team loaded with NBA All-Stars.
The year was 1997 and giant icons representing the NBA traveled to Europe to play in the Nike Hoops Heroes exhibition game. A team comprising Michael Jordan, Scottie Pippen, Charles Barkley plus several other professionals faced off against an 18-year old Dirk Nowitzki and his team. 
When Charles Barkley, Michael Jordan, and co. faced a young Dirk Nowitzki
A video posted by Ballislife.com shows Barkley recollecting his memories of playing against Dirk for the first time. Barkley has mentioned about the game several times, just like how he brought it out during a charity softball game. Dirk and Charles were on the same team and Chuck decided to speak out in the locker room about a team of NBA stars getting humiliated at the hands of a teenage Nowitzki.
ADVERTISEMENT
Article continues below this ad
"Michael, Scottie and a bunch of guys..like NBA players. Dirk was like 18," Barkley said, recollecting his memories from 1997. "So Dirk was kicking our ass. He got like 25 in half-time. And me and Michael like, 'Scottie you gotta pick it up a little bit.' He's like 'Man, I'm going to lock him down in the second half.' Dirk finished with 52," Barkley revealed. 
"'So I was like who the hell are you?' And he starts talking, and he's like 18-19. I said 'Where you gonna play at?' He says ' I have to go into the army.' I said ' Dude you can't go into the army playing like that.'" Here is what Charles did after learning Dirk had no college offers to help pave his way into the NBA. 
"I called Nike and I said, 'Find out about this kid, tell him I'll give him everything he wants to go to Auburn!'" Charles Barkley badly wanted to get Dirk into his alma mater. However, Dirk never attended Auburn.
ADVERTISEMENT
Article continues below this ad
The 14-time All-Star certainly shook Barkley, Jordan, and the others even before he came into the NBA. Moreover, Dirk enjoyed a legendary and a loyal career with the Dallas Mavericks. Looking back at his NBA life, he can relish so many honors and achievements that would speak for his greatness.