The NBA world came to a halt when LeBron James made his "decision" in 2010. James became an unrestricted free agent after his contract with the Cleveland Cavaliers had expired. In a sensational move, the Miami Heat announced that Chris Bosh and LeBron will sign with the team to partner Dwyane Wade and form a big three lineup. 
Ever since Wade declared his eligibility in the NBA draft, the Heat picked him up and he stayed loyal to the franchise. But, in 2010, many bells rang about Wade taking his talents elsewhere. There were speculations about the duo of Wade and LeBron joining the Bulls, but it never took off. 
The Heat somehow pulled off one of the most spectacular deals, with president Pat Riley being the main mastermind behind luring LeBron and Bosh into the team. The franchise had to allocate a gigantic sum to bring these players.
LeBron James, Dwyane Wade took pay cuts to keep an instrumental player on the Miami Heat roster
When the Big Three was formed in the Heat's roster, their contract details were no secret. Each player had a humungous contract offer as part of the deal. Bosh and LeBron signed similar six-year deals worth $110.1 million as reported by ESPN. 
The Heat spent a massive amount of money to retain Wade and sign the other two. Thus, it meant that they were falling short of money to satisfy the demands of other players. One such member of the team was Udonis Haslem. He joined the Heat in 2003 along with Wade, and the pair struck the right chord ever since. 
As the Heat ran out of money to keep Haslem on the team, the big three of Wade, LeBron and Bosh stepped up to take a pay cut. As per ESPN's Brian Windhorst, Dwyane Wade gave up $1.5 million from his annual salary in order to retain Haslem.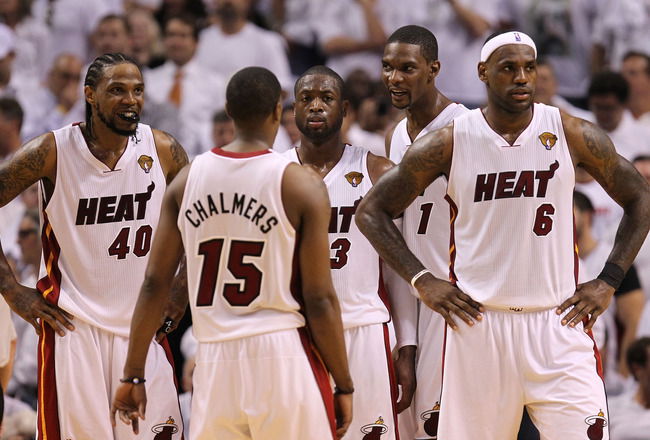 The new signings LeBron and Bosh each took a $1 million pay cut to contribute towards keeping Udonis Haslem on the team. The franchise gained a refreshing look with the new signings and they didn't fail to impress. 
By starting off the campaign by displaying unity, LeBron and Bosh further helped the Heat gain a massive status in the NBA. Miami became frequent entrants in the NBA Finals as they reached the grand stage for four consecutive years. Their success rate stood at 50% with the team winning back-to-back championships in 2012 and 2013, and losing out on 2011 and 2014.