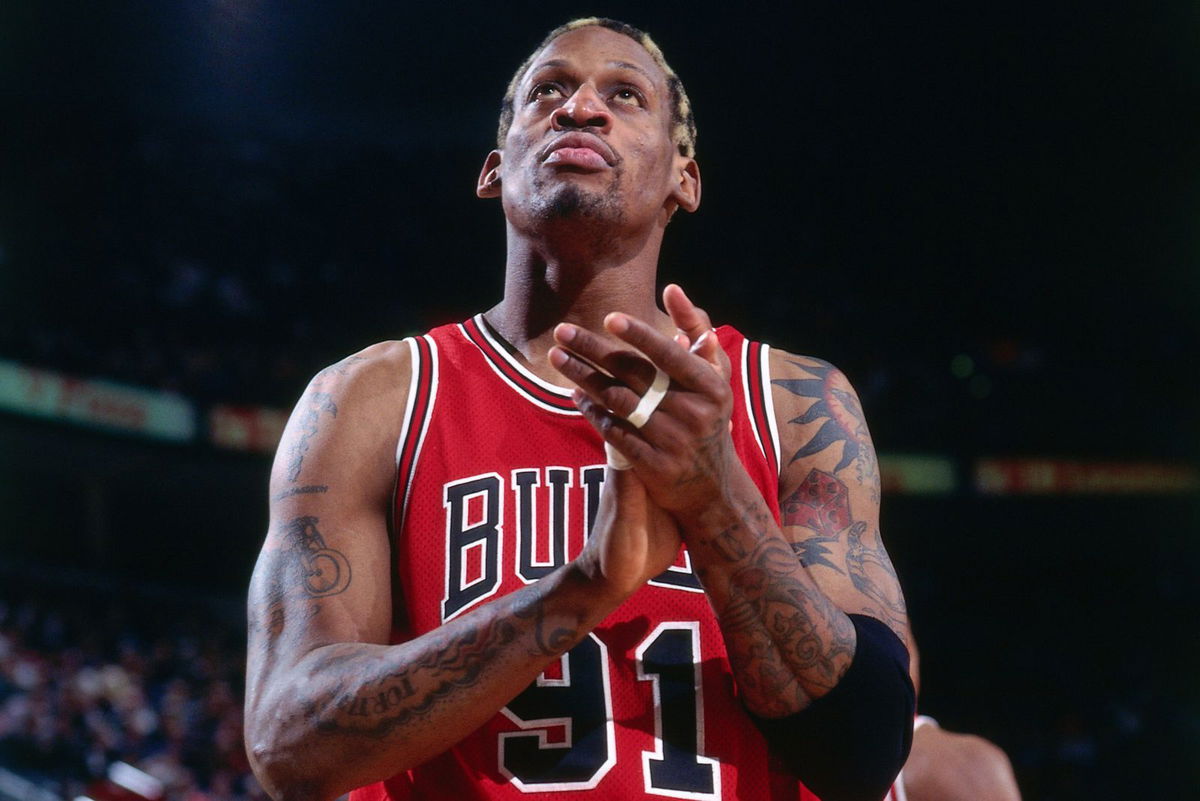 People often forget how good Dennis Rodman really was. Though Rodman had his share of controversies both on and off the court, one can't deny his basketball talents. He is one of the best rebounders the game has ever seen, fearlessly leaping for every shot that comes off the rim or the backboard. 
It has been more than a decade since Dennis Rodman retired from professional basketball and about two decades since he left the NBA. Not many players have had the privilege of winning five NBA championships in their careers. Rodman has five titles with two different teams ranking with the likes of Magic Johnson, Tim Duncan, Kobe Bryant, and a few other players. 
59-year-old Rodman is currently living in California, but his heart always beats for the city of Chicago. A city that gave him three consecutive NBA titles. A Bulls team that took him in and embraced him for who he was. Rodman recently connected with Pete McMurray of WGN Radio 720, where he engaged in a casual chat looking back at his roller coaster of a career. 
Dennis Rodman on Phil Jackson
The zen-master Phil Jackson is one of the greatest tacticians ever. Jackson has 13 titles as both a coach and a player, which is an incredible number for an individual. When Rodman joined the Bulls in 1995, he was not in a good place. 
Rodman demanded a trade from the Pistons and went to the San Antonio Spurs in 1993. This mainly relied on the fact that Chuck Daly, who was like a father-figure to Rodman, left his job as the  Pistons' head-coach in '92.  
After two unsettling years with Spurs, the Bulls brought Rodman into the team. The transition felt different. Rodman was now playing under a different coach, someone who took him in regardless of the facts from the past.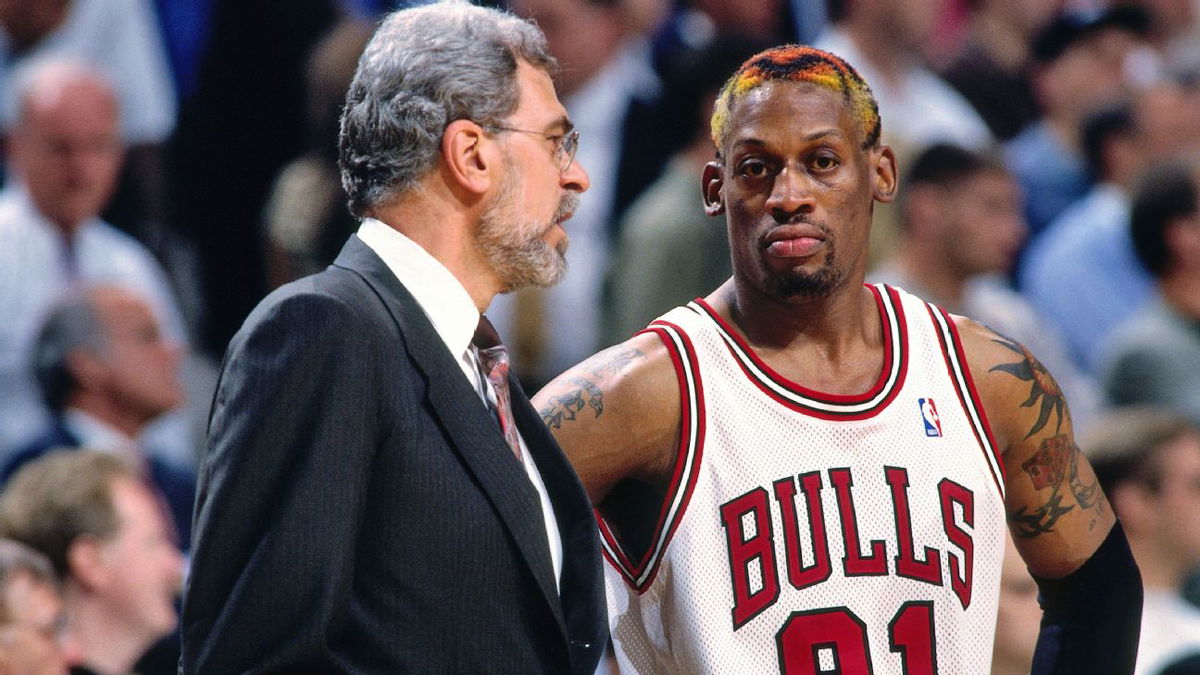 Here is how Rodman described Phil Jackson to Pete McMurray. "When I came up to Phil Jackson, Phil just knew how it was at that time. Because my life had changed so much. I think Phil knew how to coach me, how to work with me and I think Phil just kind of embraced that."
As Rodman then detailed in on how he approached Phil Jackson for the infamous Vegas trip before the 1998 NBA Finals, the two-time All-Star also had a few words of praise for his former teammate Scottie Pippen. 
Rodman says Scottie Pippen is one of the best defensive players ever
If you flip the NBA history book, you cannot find many players with the balance Scottie Pippen had in his game. Scottie was a beast on both ends of the court. His offensive traits made him unstoppable and on the defensive end, he was a rock. 
With several defensive honors in his career, there can be no denial that Scottie was one of the best defensive players in his prime. "People don't realize that Scottie Pippen did so much for the Chicago area. Because for a year and a half, Scottie Pippen was the best player in the world, to me," Rodman revealed. "When Michael left, he was the best player."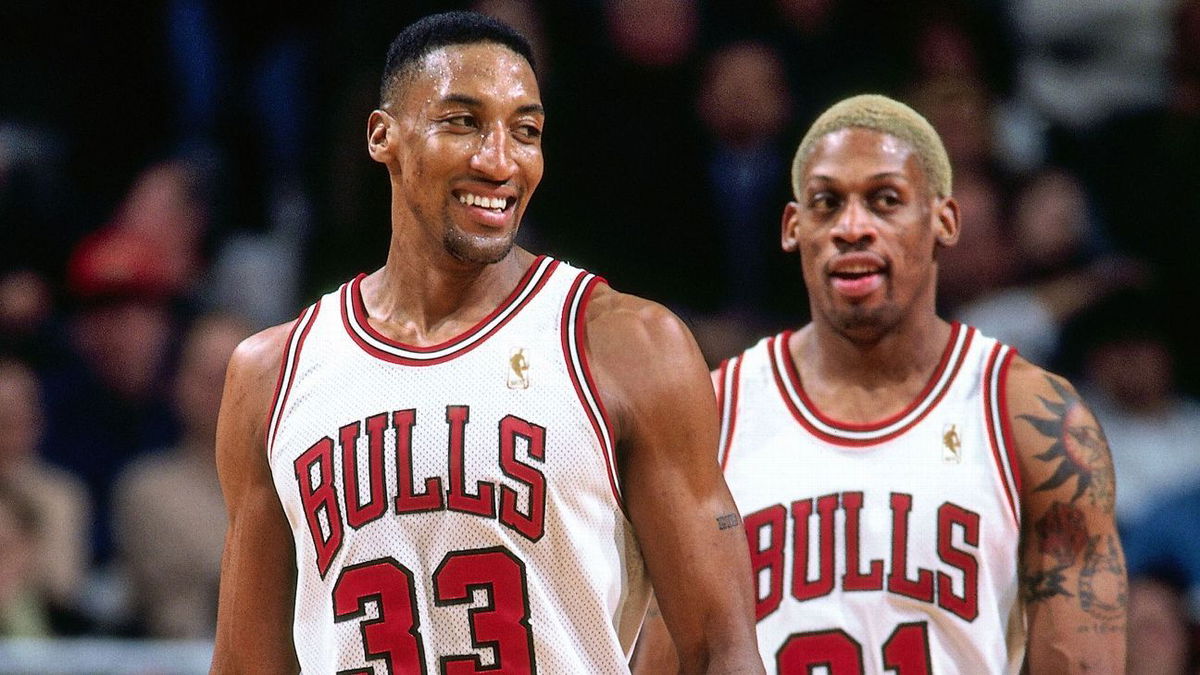 Speaking about the dynamic pairing of Michael Jordan and Scottie Pippen, Rodman made a personal claim. "They were the best one-two players to ever play the game, to me. I think Scottie Pippen is the best defensive player, then Michael, then me," Rodman modestly admitted. 
"We had three best defensive players in the game at that time. But I think Scottie's all-around game was one of the best at that period in the 90s. I think his game was the best of all time to me, all around."