Who is Chris Paul's Wife Jada Crawley, When Did CP3 Marry her and How Many Children Do They Have?
Published 07/01/2021, 11:47 AM EDT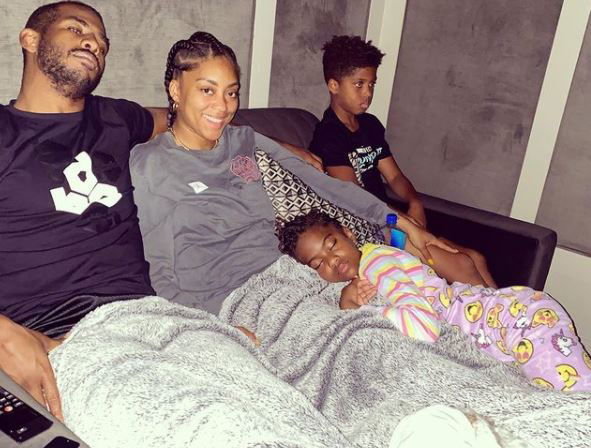 Chris Paul and his teammates at the Phoenix Suns are enjoying a season to remember thus far. Devin Booker and Co. were crowned Western Conference champions after defeating LA Clippers by a 4-2 margin in the 7-Game series.
The veteran NBA star is putting on a show in 2021 alongside Booker with some eye-catching displays in post-season. The 11-time NBA All-Star is hoping to march his way to his first NBA finals appearance while playing in Phoenix.
Apart from his teammates, Paul credits his long-term partner and wife Jada Crawley for his success on the basketball court. But not much is known about her. Here's some details on Chris Paul's wife, Jada Crawley, and their children.
ADVERTISEMENT
Article continues below this ad
Who is Chris Paul's Wife Jada Crawley?
Many won't be aware of this but Jada and Chris grew up in North Carolina. However, they went to different high schools at the time and didn't know each other. They met later when Paul played at Wake Forest. He spent two years there before taking his talents to the NCAA.
Paul and Crawley actually met at a basketball game when they were both 18. The pair began their long and enduring romantic journey at that tender age, and their love remains strong. The pair have been married for almost 10 years after exchanging vows in September of 2011.
The likes of James Harden, Dwayne Wade, Gabrielle Union, LeBron James, and Carmelo Anthony, all attended the marriage.
How many kids does CP3 have?
ADVERTISEMENT
Article continues below this ad
Chris Paul and his wife Jada have two kids together – Christopher Emmanuel Paul II (born in 2009) and Camryn Alexis Paul (born in 2012). CP3's son takes after his father and his often seen courtside during Phoenix's home game schedule or at the NBA All-Star Game.
ADVERTISEMENT
Article continues below this ad
His younger daughter, Cameryn, is the jewel of the family. She enjoys the most attention from Papa Paul and Mama Jada. The Paul's have definitely set 'family goals' when it comes to the NBA fraternity!