"Why Doesn't America Love us?!!": LeBron James Questions His Country After George Floyd's Death
Published 05/31/2020, 5:47 AM EDT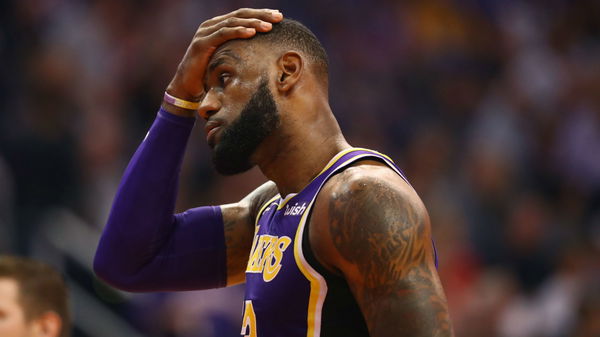 Los Angeles Lakers superstar LeBron James posted a question on Instagram that seemed relevant to the current protests in the wake of George Floyd's death.
"Why Doesn't America Love us," his Instagram story on Saturday read. He also later tweeted the same.
George, a black man, was killed by a white policeman, Derek Chauvin. A video that circulated on social media clearly showed the policeman kneeling on Floyd's neck for several minutes. Floyd could be heard saying that he couldn't breathe while the policeman kept choking him.
ADVERTISEMENT
Article continues below this ad
LeBron James continued the protest where many have been involved
The death led to protest against racial discrimination. James himself had a post condemning the injustice immediately after the incident. He referred to Colin Kaepernick's 2016 protest when he refused to stand up to the national anthem.
Also, a few others from the NBA community rose their voice in support of George Floyd. Notably, Stephen Jackson, a friend of Floyd, went on a rally in his support. Minnesota Timberwolves'  Karl-Anthony Towns and Josh Okogie also took part in the rally.
ADVERTISEMENT
Article continues below this ad
More recently, Boston Celtics' Jalen Brown led a protest in support of Floyd. He went on a 15-hour drive from Boston to Atlanta.
"I drove 15 hours to get to Georgia, my community," Brown said in the video that he released on Instagram. "This is a peaceful protest. Being a celebrity, being an NBA player, don't exclude me from no conversations at all. First and foremost, I'm a black man and I'm a member of this community. We're raising awareness for some of the injustices that we've been seeing. It's not OK.
The incident and the protests also led to Detroit Pistons coach Dwane Casey releasing a statement. He recalled the days from his childhood when he was a victim of racial discrimination. He questioned the society saying it has failed to bring up any change even after over five decades.
ADVERTISEMENT
Article continues below this ad
"We have to change the way we see and hear each other.  We have to work together to find solutions to make the justice system just.  Black, white and brown people have to work together to find new answers," the statement read.
James continued the ongoing protests forward with his post questioning the nation.