Will LeBron James Play With His Son Bronny James at Lakers before Retirement?
Published 07/13/2021, 7:33 PM EDT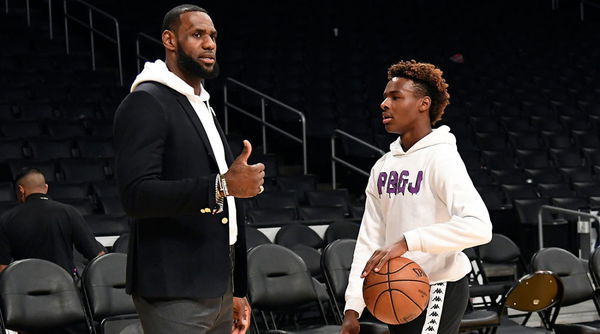 ---
---
Long after his career is done and dusted, the world will still talk about Los Angeles Lakers great, LeBron James. 'The kid from Akron' led the LA-based franchise to the NBA Championship last year. This was his 4th Championship win, previously winning two titles with Miami Heat and one with the Cleveland Cavaliers last decade.
ADVERTISEMENT
Article continues below this ad
The NBA GOAT debate involving Michael Jordan, Kobe Bryant and King James is a never-ending one. But fans are focusing on a different story arc with regards to James and his progeny.
ADVERTISEMENT
Article continues below this ad
LeBron's eldest son, Bronny James, is currently a hooper at Sierra Canyon High School. He made his debut in November 2019, scoring 10 points off the bench in a comprehensive win over Montgomery High School. Bronny takes after his father and is an absolute monster on the basketball court.
So this begs to question, will we see a LeBron – Bronny pairing in the NBA sooner rather than later?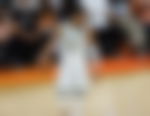 Will LeBron James and son Bronny play together in the NBA?
In his sophomore year, Bronny suffered a meniscus injury for which he underwent surgery to repair. He is expected to return soon but father LeBron James is adamant that a few hurdles in life will help his kids build character.
"I grew up in Akron, Ohio, in the inner city, the hood, the projects. There's absolutely nothing I can do to give them the same moment or aspirations or drive that I had. One thing I could do is instill the morals and what we do in this house, and how we represent ourselves when we leave the house."
"You give them the blueprint. I hope they have some adversity. They need some hardships. The best teacher in life is experience," James said on the SmartLess podcast.
ADVERTISEMENT
Article continues below this ad
Bronny is part of the Class of 2023. The youngster is regarded as a five-star recruit and has already been courted with scholarships from multiple NCAA Division 1 universities in the US. As per 247 Sports, Bronny enlists Kentucky, Duke, Kansas, North Carolina, and UCLA, as his preferred schools of interest.
It won't be long until we see this youngster make his much-anticipated debut in the NBA. But the question remains, will LeBron be watching from the sidelines when that happens or will he be on the court playing against (or with) his eldest kid. Watch this story develop as it writes itself.
ADVERTISEMENT
Article continues below this ad