Worst of Chicago Bulls? When Scottie Pippen Threw a Chair Mid Game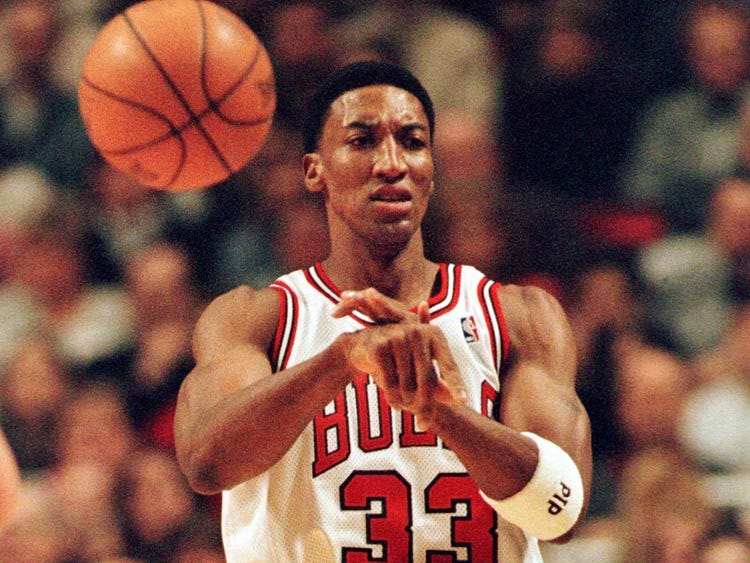 During an NBA game, the intensity levels of the players are extremely high. The teams play to win, and agitations rise if things don't go their way, especially with the calls made by the referee. Chicago Bulls star Scottie Pippen once lost his temper on the court and went as far as tossing an object on the court!
Scottie Pippen's stint with the Bulls lasted for eleven seasons before leaving for the Houston Rockets. Pippen, in his dominating career with the Bulls, has got into plenty of altercations with his opponents, that has got him ejected off the court. 
Pippen was left stranded by his partner Michael Jordan when the latter retired in 1993. He had to hold the fort for nearly eighteen months until 'His Airness' decided to come back.   
In this testing time for the team, Scottie had to lead from the front, which he did remarkably well. Without his greatest teammate, Scottie's attitude soon revealed his exhaustion. In some instances, Pippen lost his cool, leading to his ejection from the court. One such time, he went against the referee, further resulting in a one-game suspension for Scottie.
Why did Scottie Pippen lose his cool and create havoc on the court during a Bulls game?
It was the year 1995. The Bulls were playing against the San Antonio Spurs at the United Center and tensions unfolded minutes before the first half ended. Scottie Pippen looked angry with referee Joe Crawford for failing to notice Spurs' Dennis Rodman violating the three-second rule multiple times. 
Engaging in a heated argument with Crawford twice, the latter kicked Pippen out of the game by ejecting him. Scottie, who was visibly irate, had to be contained by his teammates to avoid further damage. The Bulls player then went up to his coach and screamed for justice, after which he proceeded to walk away. Many thought he was walking back to the locker room, which is the protocol.

Scottie then did something to further escalate his troubles. He hurled a chair on the court. Proving his frustration, Pippen kicked his legs on his way to the locker room. Consequently, the league him fined $6,000 for his outburst and suspended him for one game without pay. 
The Bulls eventually lost the match by two points, and Pippen later expressed his concern over the issue. "It really hurts me to ever get kicked out of a game. But especially that game because it was against a good team with one of the league's best players. We had a good chance to win and my being ejected hurt my teammates. They didn't deserve that."