"Y'all On That Bull**it": Boston Celtics' Locker Room Implodes after Going 0-2 Down Against the Miami Heat
Published 09/17/2020, 10:31 PM EDT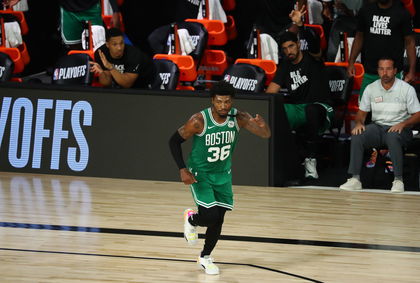 ---
---
The Boston Celtics suffered a dreadful loss at the hands of the Miami Heat in Game 2. They're now down 0-2 in the series, and Marcus Smart vented his frustration at his teammates after the recent loss by yelling in the locker room, creating chaos among the unit. 
ADVERTISEMENT
Article continues below this ad
One can say that the Boston Celtics have struggled to cope up with the intensity displayed by the Heat in this series. They've been phenomenal in their comebacks, with Jimmy Butler leading the way for his team. 
ADVERTISEMENT
Article continues below this ad
Game 2 saw the Celtics losing 101-106 after they had initially taken a 17-point lead. A disappointing shooting display in the final quarter dropped the Boston's confidence, and they could not claw their way back into the game. 
This blew up in the mind of Marcus Smart, who had 26.0 points in Game 1. Smart has been a vital contributor for the Celtics in the 2020 Playoffs, and he was not happy going down 0-2 in the Celtics' first ECF appearance in 10 years.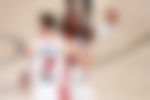 Boston Celtics locker room implodes after back-to-back defeats
The Celtics undoubtedly would be left in frustration after losing a crucial game in the series. Additionally, Marcus Smart let his feelings known after the team headed to the locker room.
"Marcus Smart is screaming at someone in the Celtics locker room — or several people. The yelling continues as Smart exits the locker room, swearing," ESPN's Malika Andrews tweeted. 
Moreover, Boston Globe's Gary Washburn provided more updates. He informed that the entire Celtics' locker room went at it after the loss. Smart even allegedly yelled, "Y'all on that bullshit!" after which there were sounds of "a lot of yelling" and "items being thrown" coming from the C's locker room.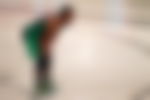 The team had to close the door on their argument, but the raucous sounds were still echoing out. Things are not going well for the Celtics, and a rift between the team is the last thing they would want. Some players, including Marcus Smart, left the building without staying back for the post-game presser. Wonder what it means for their upcoming games. 
ADVERTISEMENT
Article continues below this ad
Tennis star Nick Kyrgios then commented on the Celtics' locker room bust-up. "Good. Stevens isn't gonna get into them, they need to realise that they are doing everything great until they get up 17."
ADVERTISEMENT
Article continues below this ad
Boston has a shabby record when they go down 0-2 in a playoff series. In their historic postseason run, the Celtics only display a 2-15 record when they are down trailing 0-2 in a series. Can the 17-time champs find inspiration and turn things around in the bubble?