"You Forget I Coached Kawhi": Lakers Assistant Coach Shuts Down Troll Over Potential Clippers Matchup
Published 09/14/2020, 12:48 PM EDT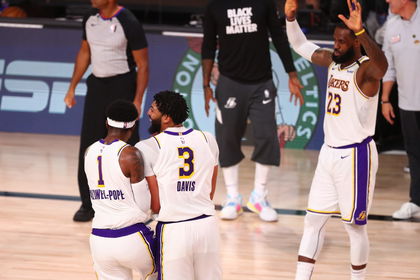 ---
---
The LA Clippers lost their 3-1 lead to the Denver Nuggets and now face a really tense situation. They were #2 in their offensive rating during the 2019-20 season. But their round 2 average of 105.5 showed them in a very poor light offensively.
ADVERTISEMENT
Article continues below this ad
With the Clippers, the problems seem to be with them sinking under pressure. This will certainly not help them if they are to face the Lakers next.
In the last two games, they totally dominated the Nuggets in the first half and then faded away in the second. This is a concerning factor because they have Kawhi Leonard consistently scoring 25+ but the team still keeps falling short.
ADVERTISEMENT
Article continues below this ad
Recently, the Lakers' Assistant Coach also indirectly gave the Clippers a little piece of advice.
When the Assistant Coach of Lakers came down strongly at a Clippers fan
Coach Phil Handy dropped an Instagram video. He captioned it "#goatsundays … The work always pays off. @lakers have a lot more work to do." The video showed Alex Caruso, Kyle Kuzma, and Danny Green practicing hard with coach Phil.
Just as he posted it, a user commented (now deleted) by claiming "Clippers will do them [Lakers] in". To this, Phil responded back by taking a humorous shot and challenging the person. He replied, "Put your money where your mouth is".
This did not go very well with the comment maker as he then provoked the coach by suggesting he does not know Kawhi well enough. To this, the coach made a mouth-shutting reply as he exclaimed, "Sounds good. You forget I coached Kawhi.  I don't have to figure out what I helped develop.  It will be a good series my man. They got they hands full right now. Best they worry about the series they are in [emoji]."
Many Lakers fans coming to support Phil followed this. 
Reportedly, Phil had helped Kawhi develop a better ball-handling which helped him big time during his stint with the Raptors. 
LeBron's men in a good position to face any team
The coach's words reflected that the Lakers are ready to take on the Clippers if they succeed in getting past the Nuggets. The Lakers hired Phil Handy last year to serve the purpose of players' development.
ADVERTISEMENT
Article continues below this ad
Phil had earlier in 2011 also associated himself with the Lakers when he worked closely with Steve Nash, Kobe Bryant, Pau Gasol, etc. He then went on to work with the Cavs and helped LeBron James in those days. So his experience is coming very handy for the Lakers.
The twist in the tale is that the Lakers were always strong at their defense and still are. But the Clippers have lost their rhythm with one of their greatest assets, the killer offense.
Also, the Lakers closed their Round 2 in 5 games and hence got more rest to fuel themselves as opposed to the winner between Clippers and Nuggets. 
ADVERTISEMENT
Article continues below this ad
As the coach mentioned above, it will be a good series.