"You Getting Shot for No Reason": NBA Legend Kareem Abdul-Jabbar Reveals His Sad Message to His Kids
Published 06/03/2020, 5:39 PM EDT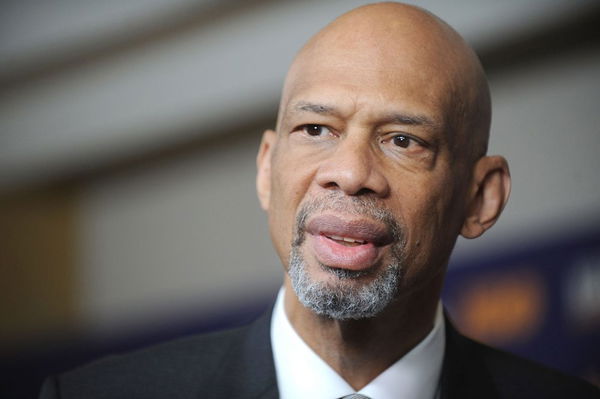 ---
---
While the nation is protesting the death of George Floyd, Los Angeles Lakers legend Kareem Abdul-Jabbar spoke about his lifelong fight against racism.
ADVERTISEMENT
Article continues below this ad
Jabbar recently wrote an op-ed on LA Times condemning the injustice. In an appearance on The Tonight Show with Jimmy Fallon, Jabbar talked about his article and his struggles with being an African-American.
He was part of a protest for the first time during his college days. He talked about an incident when the police officer would start questioning him only due to the color of his skin.
ADVERTISEMENT
Article continues below this ad
When Fallon asked how he talks to his children about such issues, Jabbar said:  "I told my boy, 'The police are suspicious of you and are afraid of you at the same time. It is all based on the color of your skin. You have to know how to handle that. (If you) escalate the situation, it could lead to you getting shot for no reason."
Jabbar doesn't seem to be the only one who had such talks with his children. His teammate during his NBA days, Magic Johnson, recently revealed that he warned his children about being black in America. In the wake of the George Floyd incident, Johnson felt the need for it in spite of being one of the most famous names in America.
Both Kareem Abdul-Jabbar and Magic Johnson were part of a Los Angeles Lakers team that dominated the NBA during the 1980s. Jabbar finished as the NBA's leading scorer of all-time, a record that still stands. Over his 20-year career, he was a 19-time All-Star, winning six titles and six MVP awards.
ADVERTISEMENT
Article continues below this ad
Kareem Abdul-Jabbar shared a message urging for change
Towards the end of the show, Jabbar shared a message. "If you want to change this, just make a friend with someone who doesn't look like you," he said. "Too many of us don't have friends that don't look like them. That's a shame."
ADVERTISEMENT
Article continues below this ad
Talking on CNN, Jabbar was also critical of President Donald Trump's announcement on wanting to take military action. He felt those were comments from people who have no voice.