"You Want to Win This?": Rob Lowe Recalls How Magic Johnson Once Managed to Piss Off Michael Jordan in a Celebrity Charity Game
Published 07/12/2020, 12:15 PM EDT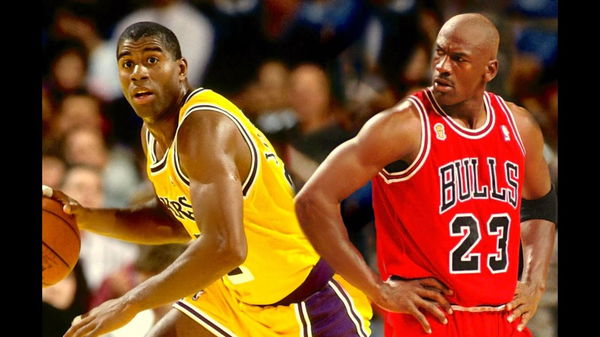 ---
---
If you follow Lawn Tennis, you might have come across the Laver Cup. The whole idea behind this unique black court concept makes it special. It brings entire Europe playing together against the rest of the world. This allows rivals like Roger, Rafa, and Djoker to play for the same team. Fans elated and sponsor super satisfied. It brings euphoria with it whenever competitors play a light-hearted charity match together. Now being a Basketball fan, just imagine Michael Jordan and Magic Johnson playing a friendly match. Crazy!
ADVERTISEMENT
Article continues below this ad
In the popular documentary, 'The Last Dance', MJ spoke about his inspiration for Magic Johnson. But back in the days, it was a rivalry to devour, the Bulls vs the Lakers. In 1991, the NBA Finals saw the two teams face each other. The Bulls won it 4-1 but overall it was a win for the sport of Basketball because of these two celebrated names. Johnson was eyeing a career end while MJ was just getting started. But what if I tell you that they had played a friendly before this?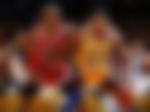 ADVERTISEMENT
Article continues below this ad
When Michael Jordan and Magic Johnson played a charity game…
About Last Night famed actor Rob Lowe remembers this game played in the late '80s. It was a  celebrity charity game in Los Angeles and believe me you, Lowe 'coached' MJ and Johnson. Rob remembered asking Magic Johnson sometime back if that was the first time the two greats played together, to which he replied in affirmation. 
The best moment that Air Jordan and E.J. the Deejay had was just hilarious. As Lowe remembers, "I looked over to Michael and he was pissed and he looked at Magic and Magic being his Magic self, having a good time. Score was 240 and Michael was like, you want to win this? And Magic was like, Jesus Christ he means it." Enjoy this video shared by Conan…
Jordan and his competitive spirit
ADVERTISEMENT
Article continues below this ad
In the documentary on MJ, he says "I can stop gambling. I have a competition problem, a competitive problem." Now, this just got proved by the story expressed above. That charity match also had in it Mark Jackson, Karl Malone, and many other notable players of that time.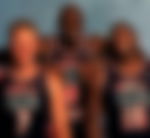 Later on, MJ and Johnson represented the USA Basketball Olympics team in 1992 and won Gold for their team. The dream-team had in it Scottie Pippen, Karl, Larry Bird, Chris Mullin, John Stockton, and Patrick Ewing as well. They easily defeated Croatia 117-85. No one's surprised!
ADVERTISEMENT
Article continues below this ad
Do you think that was the best team ever?