"You're in the Coaches Office, You Run Everything": Allen Iverson Reveals Being Awestruck By Michael Jordan
Published 07/07/2020, 4:31 AM EDT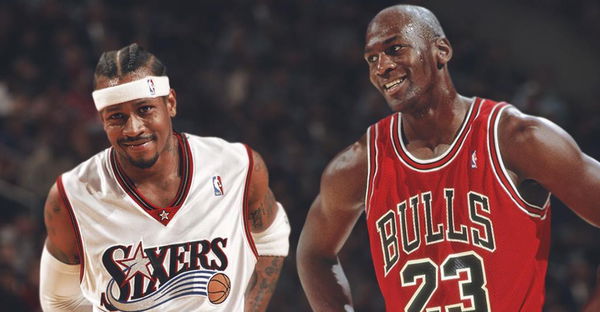 Very few players can say they changed the game of basketball, and Allen Iverson is one of them. Drafted number one overall in 1996, in one of the most talented draft classes ever, Iverson has inspired millions across the globe. Not just with his playing style, but also the way he carried himself. But one thing he has always admitted is how he was inspired by Michael Jordan, whom Iverson calls his hero.
ADVERTISEMENT
Article continues below this ad
In a new video titled "So … You Want the Real Story?", the Hall of Famer is featured by the Players Tribune, who have brought to light his story. In the video, Iverson talks about how he wanted to "be like Mike" and also says "Anybody that knows Allen Iverson knows that Black Jesus was there for me." 
ADVERTISEMENT
Article continues below this ad
Allen Iverson and Michael Jordan: Revolutionaries of the game
When Iverson met Jordan for the first time, he says he couldn't even believe it. "I've never looked at somebody that didn't look real. Like the guy was glowing." But he says that once it was time for tipoff, it was showtime after that.
"(When) they're going to leave, they're always going to know who #23 is, but tonight they're going to know who #3 is."
During his third meeting against Jordan back in March 1997, Iverson crossed up Jordan, and that left Jordan in awe himself. "His quickness is unbelievable" is all Jordan could say post-game.
ADVERTISEMENT
Article continues below this ad
Jordan was retiring in 2003, and it was going to be his last All-Star game. So Iverson wanted to pay tribute to his hero. But he couldn't risk going against his sponsor, Reebok. "I'm with Reebok and we didn't make Jordan jerseys. But it was his last All-Star game. and I wanted to pay tribute and homage to him. So I cut the tag off, cut the Nike sign off from the back, put on my bulls hat, and came in." 
Iverson said he was just awestruck by how "cool" Jordan was when he saw him before that game. "He was sitting in the coaches' office, with his feet kicked up, smoking a cigar with the uniform on. I was like that is so cool. (He) was smoking a cigar before the game. You're in the coach's office, you run everything." 
ADVERTISEMENT
Article continues below this ad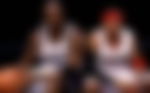 They had a total of 13 matchups, with Jordan coming out on top seven times. Unlike Jordan, Iverson was failed by his team management and he could never win a ring in his career. The Answer remains one of the greatest players to never have touched the Larry O'Brien trophy.