"You're Known as the Human Highlight Film": Former Wizards Player Reveals How Michael Jordan Trash Talked His Own Teammate
Published 06/30/2020, 8:30 AM EDT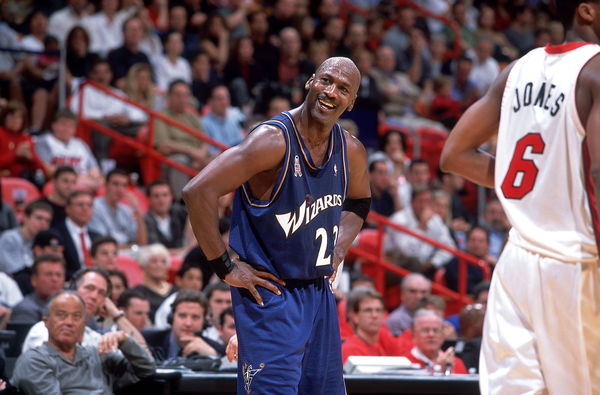 When you're playing with a legend of the game, you ought to show respect. And if that player is also the president of basketball operations of your team, you have to be more careful. However, that's not what Bryon Russell had in mind. According to his Washington Wizards teammate Brendan Haywood, Russell would constantly chirp at Michael Jordan during Wizards' practices.
Haywood said, "He would consistently try and challenge MJ in practice. But MJ was so much better than him. It got to a point where it was embarrassing. After one practice where he hit the game-winning shot on Bryon Russel, he said, 'Man, stop trying to guard me. You're known as the 'Human Highlight Film', not because of your own, but because you're always in mine.'"
ADVERTISEMENT
Article continues below this ad
When Michael Jordan took it personally, yet again
ADVERTISEMENT
Article continues below this ad
During the Last Dance, we saw that Russell had already got himself on Jordan's "list." When Jordan was retired and playing baseball in 1994, he was in the Bulls training facility before a Bulls-Jazz game. So while talking to John Stockton and Karl Malone, Russell interrupted and started trash-talking. "Man, why you quit? Why you quit? You knew I could guard your ass. You had to quit." Jordan tried to stay calm and told Malone to talk some sense into him. The documentary then shows Jordan saying, "From that point on, he's been on my list." 
After beating the Jazz in the 1997 NBA Finals, Jordan got back at Russell. The next year he followed it up with a lifetime (bad) memory for Russell. During the 1998 NBA Finals, the Bulls were facing the Jazz again. And in Game 6, Jordan hit that game-winner over Russell as he sealed the second three-peat for the Bulls.
21 years ago today, Jordan hit the iconic game-winning shot over Bryon Russell to capture the Bulls' second three-peat.

🏆🏆🏆🏆🏆🏆 pic.twitter.com/YBQFth7fIJ

— SportsCenter (@SportsCenter) June 14, 2019
ADVERTISEMENT
Article continues below this ad
So despite this, it's surprising to find out that Russell was still talking trash MJ during his time with the Wizards after this incident. After the 2002-03 season, both left Washington, as Jordan retired one last time, while Russell signed with Lakers after his contract ran out.