"You Either With Us, or Not": Los Angeles Lakers Players Lash out at San Francisco 49ers for Being Hypocrites
Published 06/03/2020, 3:36 AM EDT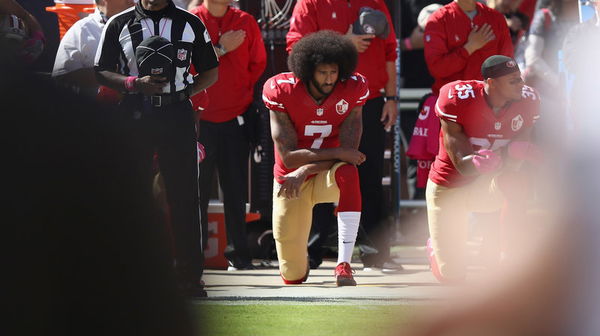 ---
---
The protests on the roads all throughout the country are continuing. Meanwhile, NBA players are starting dialogs and spreading awareness on social media. Los Angeles Lakers players Jared Dudley, Kyle Kuzma, and other NBA players recently lashed out at the NFL for being hypocritical.
ADVERTISEMENT
Article continues below this ad
Los Angeles Lakers players take a stand against the NFL
ADVERTISEMENT
Article continues below this ad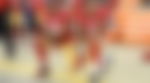 Back in 2016, NFL player Colin 'Kap' Kaepernick took a knee during the National Anthem, to take a stand about civil rights. However, he did so very subtly, such that it wouldn't be noticed. And it wasn't, for weeks. However, when the media asked him about it, Kap talked about everything, from civil rights to raising the issue of police brutality towards African-American people in the country.
The NFL saw him as a threat and hence criticized his way of protest.
Kaepernick became a free agent after the season. However, he ended up unsigned. In November 2017, he accused them of conspiring to keep him out of the league. Kaepernick filed a grievance he against the NFL in February 2019, but chose to settle confidentially.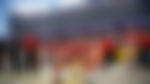 Not a lot happened that time. But now, Los Angeles Lakers player Jared Dudley is using Kap's stand to call the San Francisco 49ers out. Dudley and other NBA players are highlighting how the team did not support Kaepernick. They are also talking about the hypocrisy around the team's  'Blackout Tuesday' tweet.
His first response was a reply to Lakers player Kyle Kuzma, who called out the 49ers too. Kuzma implied that the team is showing its support now, when they should have done it years ago.
To this, Dudley replied with:
Crazy! Just remember every NFL player, executive , owner, and president who talk bad about Kap peaceful protest… This is what he was talking about.. No more dancing around the topic.. You either with us or not. Pick a side https://t.co/GYMcLs2x9Z

— Jared Dudley (@JaredDudley619) June 3, 2020
Joining in, Donovan Mitchell also called the NFL team out about the same.
However, it wasn't over for Dudley yet. He went ahead and defended those who talked against Kap and for the 49ers.
Yes the Niners did after the fact with the donation. Never came out to support him during the kneeling time.. Now there pressure for all sides to speak now.. No more staying quiet, you have to pick a side https://t.co/65AkbRdeBx

— Jared Dudley (@JaredDudley619) June 3, 2020
Responding positively to basketball player Tyrese Rice, who also raised the issue. Dudley tweeted:
ADVERTISEMENT
Article continues below this ad
💯💯 If you was quiet then we know what side you on… I want reporters asking ever QB, Head Coach, and Owner about what they think now about Kap taking a knee.. What side are they on? https://t.co/v264nAPAsu

— Jared Dudley (@JaredDudley619) June 3, 2020
ADVERTISEMENT
Article continues below this ad