"You Literally Still Don't Understand": LeBron James Slams Drew Brees Over His Comments on Colin Kaepernick's Protest
Published 06/04/2020, 2:07 AM EDT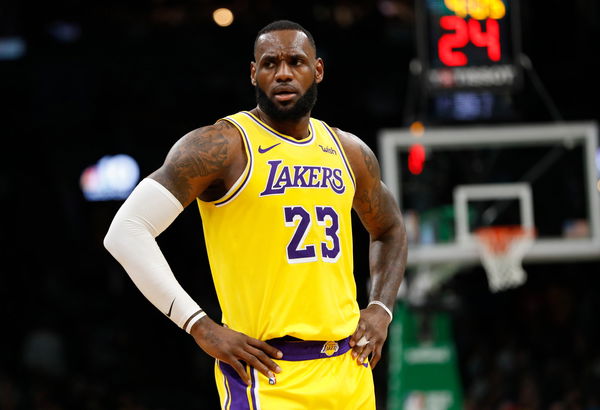 ---
---
LeBron James wasn't happy with New Orleans Saints quarterback Drew Brees' comments on Colin Kaepernick's protests in 2016. Brees recently said in an interview with Yahoo Finance that Kaepernick kneeling to the national flag in 2016 was disrespectful, and he would never agree with it.
ADVERTISEMENT
Article continues below this ad
"I will never agree with anybody disrespecting the flag of the United States of America or our country," he said during the interview.
James tweeted on Wednesday, expressing his discontent towards the football quarterback's statement.
ADVERTISEMENT
Article continues below this ad
"Wow man!! Is it still surprising at this point? Sure isn't! You literally still don't understand why Kap was kneeling on one knee?? Has absolute nothing to do with the disrespect of (USA) and our soldiers (men and women) who keep our land free. My father-in-law was one of those," the tweet read.

James was, in fact, one of the first ones to recall Colin Kaepernick's protests after George Floyd's recent death. He felt the incident of Floyd's death was just an example of why Kaepernick protested.
Drew Brees' comments brought backlash from many, including LeBron James
LeBron James wasn't the only one unhappy with Brees' comments. Among the NBA players, Portland Trail Blazers' CJ McCollum and Los Angeles Lakers' Jared Dudley tweeted against Brees. A few of his fellow football players posted comments against him. His teammate Malcolm Jenkins and Green Bay Packers quarterback Aaron Rodgers were among those.
ADVERTISEMENT
Article continues below this ad
We need more @AaronRodgers12 and less @drewbrees. Ignorance is not an excuse. You have to hand off the ball and throw to those same teammates you refuse to stand up for.

— CJ McCollum (@CJMcCollum) June 4, 2020
Watch This Story
Brees later clarified in a statement to ESPN that he is not against those protesting, but he stood on his initial comments.
ADVERTISEMENT
Article continues below this ad
"I love and respect my teammates and I stand right there with them in regards to fighting for racial equality and justice," Brees said. "I also stand with my grandfathers who risked their lives for this country and countless other military men and women who do it on a daily basis."
Brees, 41, has been playing in the NFL for 19 years. He has been a part of the New Orleans Saints since 2006 and has won many awards.