Nike Capitalized on Young LeBron James over Adidas' Fear
Published 03/04/2020, 1:38 PM EST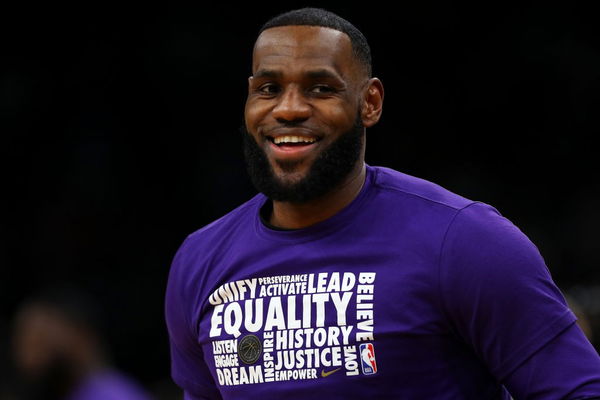 ---
---
LeBron James is one of the most glorious players of the NBA for this decade. He is also Brand Ambassador for Nike Basketball. This sounds so right to us, isn't it? well, we all have been following this game for a way too long to even get deviated from it. What makes us being sceptical about saying this now? Well, LeBron James was going to be not the face for Nike, but Adidas. Sounds interesting right? let's find out.
ADVERTISEMENT
Article continues below this ad
Was LeBron James going to be the new face of the NBA?
St. Vincent-St. Mary varsity basketball team Alumni was all set to step into the professional basketball arena at the age of 18. The first pick in NBA Draft Class of 2003, LeBron was set to join his hometown team Cleveland Cavaliers.
ADVERTISEMENT
Article continues below this ad
LeBron James averaged 25.2PPG, 7.2RPG, 5.8APG, and 3.8SPG during his High School Career. After Kobe Bryant, LeBron was kitting up to set on the NBA Court. The question was which sole would grace the first step of James for his first NBA game and forever long. A career-spanning of 17 years, for now, 3 times NBA Champion has been wholehearted supported by Nike on this whole journey. Why include Adidas during this whole discussion.?
Adidas fiasco
LeBron James was all set to sign his first contract with Adidas as he always preferred to wear them during High School Career. Only if Adidas were loyal to propose to him to what they set for long term deal. Adidas initially proposed a deal for $100 million with $10 million per year including incentives. Sonny Vaccaro, a former sports marketing executive was working with Adidas at that time. He was the contact point for final negotiations between LeBron James, His Lawyer, and Adidas. What went wrong was the last-minute changes in the deal which opened the doors for Nike to step in with a lucrative and better offer than Adidas, a $90 million for LeBron James.
This led to a heated discussion for what went wrong, which even surprised Sonny Vaccaro the then negotiator for Adidas for completion of the deal. As per sources, Adidas didn't feel at that time that Los Angeles Lakers forward was worth to invest looking into the future. This really didn't play well from there side losing one of the most celebrated players on the court in the entire league. He is now the face of the NBA across the globe which Nike is benefitting from, as free marketing for their products.
Adidas could have been a leading brand ahead of Nike if they would have considered signing LeBron James?