"He is Frustrated": Knicks' Evan Fournier Takes Massive Shot at Bulls' Nikola Vucevic Over Tokyo Olympics 2020
Published 08/09/2021, 9:08 AM EDT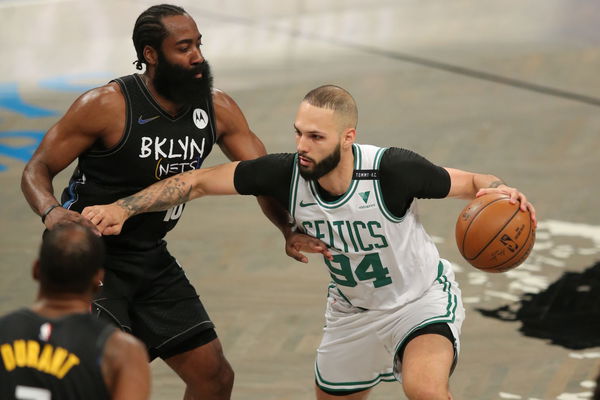 ---
---
After being practically unbeatable for close to two weeks, France suffered heartbreak in the Tokyo Olympics final. Team USA proved to be the chink in their armor. Having defeated Gregg Popovich and company in their first encounter, the Frenchmen were confident, heading into the gold medal match. However, it was not to be for them. Despite the attacking prowess of Evan Fournier coming good, Kevin Durant's side was far too powerful for them. The 28-year-old French star recently made a shock move to a new franchise in the NBA, and it will be intriguing to witness his performance.
ADVERTISEMENT
Article continues below this ad
New York Knicks sign guard-forward Evan Fournier
Former NBA winners New York Knicks landed a massive deal in the form of Evan Fournier during the trade window. It has been close to 50 years since the Knicks last won a championship, and they will pray that 2022 is their year. The free agent has reportedly agreed to a four-year deal with Tom Thibodeau's side. His addition means that the player will earn at least over $50m, with a team option for the fourth year.
ADVERTISEMENT
Article continues below this ad
With the Knicks needing a quality attacker to elevate them, Fournier could be the low-key signing that New York fans never knew they required. The former Celtics player averaged over 17 points in the season gone by, and has the experience to help the team. As a result, a lot of budding players, including Quentin Grimes and RJ Barrett, will benefit from the learning curve they undergo. Fournier will deepen the attacking ability of the squad, and may just be the key to improving on the Knicks' 4th place finish last year.
Knicks' Fournier engages in banter with Nikola Vucevic ahead of new season
The thrills of the upcoming edition of the NBA have already begun. Ahead of the new season, New York's newest son took to social media to ask the fans what jersey number he should wear next year. In a cheeky reply to the poll, Chicago Bulls' Nikola Vucevic took no time to unleash a barrage of words on the French guard. Vucevic replied "We don't give a f*** what number you want to take."
On en a rien foutre de quel numero tu veux prendre

— Nikola Vucevic (@NikolaVucevic) August 8, 2021
ADVERTISEMENT
Article continues below this ad
Fournier, however, did not back down either. The veteran hopes to wear No.94 at Madison Square Garden next year, and fired shots back at Vucevic. In a tweet, Evan said "[Lol] he is frustrated because the only medal of Montenegro was in rifle shooting." The comment was a low blow, and a jibe at Montenegro's performance at the Tokyo Olympics. It sparked the beginning of the heated banter ahead of the league's commencement.
ADVERTISEMENT
Article continues below this ad
In this round of the NBA banter, it was Chicago vs New York. What do you think of both these teams, and which one of them looks more potent? Will the Knicks draw inspiration from their critics and prove everyone wrong? We will have to wait and find out.
WATCH THIS STORY: LeBron James Won't Win in Miami, Kevin Durant Won't Join Warriors, Other Hilarious Predictions by NBA Analysts Over the Years