Philadelphia 76ers News: Joel Embiid Injury Scare Has Fans Worried
Published 02/26/2020, 11:52 PM EST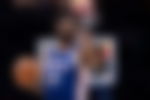 ---
---
Philadephia 76ers power forward Joel Embiid looks like he's going to miss out some game time. The 25-year-old All-Star suffered a left shoulder injury after colliding with the Cleveland Cavaliers' Ante Zizic in the first quarter.
ADVERTISEMENT
Article continues below this ad
Joel Embiid: Injury details
Embiid reported to the locker room to be evaluated after scoring three points in eight minutes. He returned to the floor briefly in the second quarter before retreating to the locker room a second time. Later, he was ruled out for the rest of the game.
ADVERTISEMENT
Article continues below this ad
https://youtu.be/N0zBmGw7DrI
The 7-footer held his shoulder in obvious pain but stayed in the game and missed both free throws. The Sixers pulled Embiid at the next time stoppage and he walked to the locker room while rubbing his shoulder.
Embiid will undergo an MRI on Thursday to determine the extent of the shoulder injury he suffered during Wednesday night's 108-94 loss to the Cleveland Cavaliers
The Sixers didn't give any specifics on Embiid other than to say his shoulder was sprained and he would not return.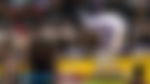 Sixers coach Brett Brown revealed after the game he was "unsure" if Embiid would be available to play in Thursday's game against the New York Knicks.
"It's part of the NBA landscape," Brown said, per John Clark of NBC Sports Philadelphia. "It's good for the other guys. We gotta find ways to move this program forward and improve. Keeping the boys in the boat. And landing the plane [playoffs]. Keeping the spirit."
On Monday night, Embiid scored a career-high 49 points against Atlanta. He's averaging 23.8 points and 12 rebounds.
His injury comes as the Sixers are preparing to play an indefinite period without Simmons, who missed his second straight game because of a nerve impingement in his lower back. The team hasn't given a timeline on when Simmons will be back.
Joel Embiid has a left shoulder sprain and will not return.

— Serena Winters (@SerenaWinters) February 27, 2020
Joel Embiid's injury history
ADVERTISEMENT
Article continues below this ad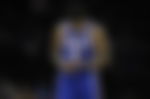 Embiid has a history of minor injuries, mostly sore body parts. However, he has had some major injury as well.
ADVERTISEMENT
Article continues below this ad
| | |
| --- | --- |
| 02/07/2020 | Neck |
| 01/08/2020 | Hand |
| 12/31/2019 | Knee |
| 12/15/2019 | Illness |
| 12/06/2019 | Hip |
| 10/25/2019 | Ankle/Lip |
| 05/07/2019 | Upper Respiratory Infection |
| 04/22/2019 | Knee |
| 04/18/2019 | Knee |
| 04/14/2019 | Knee |
| 04/08/2019 | Knee |
| 04/05/2019 | Left Knee Soreness |
| 04/02/2019 | Load Management – Knee |
| 03/29/2019 | Rest |
| 03/18/2019 | Rest |
| 02/20/2019 | Left Knee Soreness |
| 02/09/2019 | Illness |
| 01/25/2019 | Rest |
| 01/20/2019 | Back |
| 01/18/2019 | Back |
| 01/11/2019 | Ankle |
| 12/29/2018 | Left Knee Soreness |
| 12/09/2018 | Migraine |
| 10/26/2018 | Ankle |
| 03/28/2018 | Facial Contusion |
| 02/14/2018 | Sore Ankle |
| 12/31/2017 | Sore Hand |
| 12/17/2017 | Sore Back |
| 12/11/2017 | Back Tightness |
| 11/20/2017 | Sore Knee |
| 09/25/2017 | Left Knee Surgery |