Phoenix Suns News: Larry Fitzgerald Purchases Minority Stake in the Suns
Published 01/22/2020, 12:36 PM EST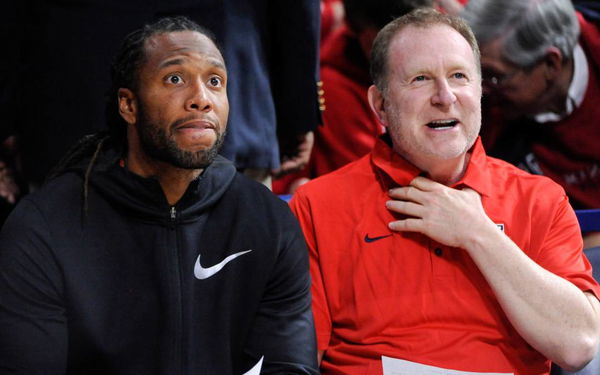 ---
---
The future Hall of Fame Arizona Cardinals receiver, Larry Fitzgerald has purchased a minority share of Phoenix Suns reports ESPN's Adam Schefter and Adrian Wojnarowski. The estimated value of the organisation was $1.5 billion in 2019, according to Forbes.
ADVERTISEMENT
Article continues below this ad
ADVERTISEMENT
Article continues below this ad
Fitzgerald announced a week ago that he is returning for his 17 NFL season. He signed a one- year extension for a base salary of $11 million. He led the Cardinals with 804 receiving yards in 2019.
Larry Fitzgerald and Richard Sarver
Fitzgerald has a close relationship with Sun's owner Richard Sarver since 2005 and even sat on the head-coach interviews last year. In December 2018, he publicly asked for support from fans and the city of Phoenix to approve arena renovations for Sun's home court. The agreement eventually passed in part to his support.
"I've been friends with Robert for a very long time," Fitzgerald said to NFL.com. "We first met when I started coming to the games in 2005 and struck up a good friendship. He started helping me with things about business, like real estate. I've learned a great deal from him. We've gotten really close and our families have gotten really close, as well. I'm looking forward to working together in the future."
Sarver, first made him the offer to join the Sun's organisations two years ago. It was at the time when Fitzgerald was considering his retirement from the league.
"I had never really given it any thought before then," Fitzgerald said. "I asked him to give me a little bit of time to think about it and wrap my mind around it. It was a unique opportunity because I hadn't heard of many other [athletes] doing it, but I wanted to really think about it because it's a substantial capital commitment. It's not something small."
He just might have delayed his retirement at that time to make himself viable for this particular deal.
ADVERTISEMENT
Article continues below this ad
See Also: Chandler Parson Feared to End His Career after a Car Wreck Causes Major Injuries
Larry Fitzgerald's role in the Sun's Organisation
Fitzgerald joins Green Bay Packer's Aaron Rodgers as the second active player to have invested in an NBA franchise.
ADVERTISEMENT
Article continues below this ad
Fitzgerald says currently he will be focusing on the upcoming season and his football career. He plans to grow into his role with the organisation.
"Larry will serve as an advisor and resource to our business and basketball staff as well as Suns and Mercury players," Sarver said on how Fitzgerald's role will evolve over time