NBA Playoffs: Can Toronto Raptors Repeat Their Championship Run
Published 03/14/2020, 9:20 AM EDT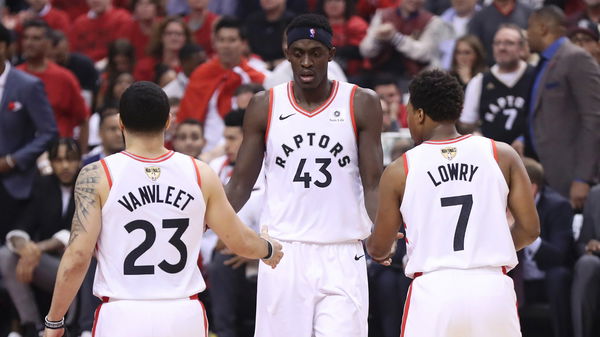 2018-2019 NBA season, a real roller coaster ride for Toronto Raptors fans. Toronto Raptors won their first-ever franchise NBA championship with Kawhi Leonard. But are they read to sustain the momentum this year with no Kawhi Leonard to support?  Let's look into our new playoffs series.
ADVERTISEMENT
Article continues below this ad
Toronto Raptors
With 48 wins over 64 games so far has made everyone believe in their roster. Kawhi was a leading force last season, but this season it doesn't look to be concern playing without him. This year Raptors are playing with just one all-star Kyle Lowry. Kyle Lowry brings lots of defensive tools on the court which is helping them a lot.  And also their roster is raw and full of potential players to look for. Pascal Siakam and Fred VanVleet beings a few of those.
ADVERTISEMENT
Article continues below this ad
Toronto Raptors: Playoffs History
99' NBA season marked Raptors first entry into playoffs which was a short-haul with just first-round loss to New York Knicks. Having Vince Carter during 2001 season didn't do much to their tally as well. Since then, Raptors were always struggling to push themselves into playoffs until 2013-2014. Playoffs regular since 2014 didn't follow through much.  Lebron James was someone who seems to create a black phase for Raptors and repeatedly. They have chocked against his team for three consecutive seasons from 2015-2018 losing all to cavaliers. One even in conference finals during the 2018 NBA playoffs.
Kawhi Leonard's addition in the 2018-2019 season was a dream tour for Raptors in playoffs. Clinching their first NBA championship.
Raptors players to look out this season
This season the roster is fresh, yet not solid. Not having playoffs veteran Demar Derozan who was traded for Kawhi Leonard. And even Kawhi moving to Los Angeles now. The team is relying on two key players and one rising star.
Kyle Lowry:
Phenomenal player for Raptors franchise. He has been a reliable player for them throughout the rebuilding phase until now. His defensive mindset is amazing with a hard man to man frame defense. On the other hand, leading in assist with 7.7APG for raptors he knows how to move the ball around the court for his team.
Pascal Siakam:
2018-2019 most improved player has an aggressive look to himself. This reflects so much in his game. An elegant insider scorer for raptors, he has been a force to reckon with this season. Leading raptors in points with 23.6 PPG. Pascal Siakam is holding hands with Kyle lowry to support the frontcourt as stabilized as possible for the team. Nice footing and follow through layups has made other teams to strategize their defense differently around him.
Fred VanVleet:
A rising star to raptors last season. He made his presence visible during playoffs last year with key moments under his belt and a hot hand 3 point shooter. This year he has broadened his resume with assists and inside scoring. He is more of a cat out of the back player who knows his tricks around for his team perfectly. Possible talk of the league very soon.
Each team has its fair share of pieces to work on. Let us look at Toronto Raptors on that.
ADVERTISEMENT
Article continues below this ad
Strength:
Toronto Raptors have a solid starting line up with hard workers on the court and strong bench to support them. OG Anunoby is one of those who can be relied well on as the sixth man for the team. Powerful board play for raptors is on his shoulder and evenly distributed by Sergia Ibaka as leading Rebounder for the team. As an underdog this season, they have a healthy lineup to rally a strong playoff season.
Weakness:
ADVERTISEMENT
Article continues below this ad
Toronto Raptors still lacks a leader again this season. This is a big worry as they don't have Kawhi Leonard to take charge in crucial situations anymore. And still a young roster with only kyle lowry and Serge Ibaka as their experienced playoffs veterans. This could again lead to choking against Nets or moving forward against Miami Heat or Milwaukee Bucks. They need to figure out a leader soon to play around during the final seconds set to keep on winning in playoffs.
Are Toronto Raptors are all set to go for back to back rings? We have to wait and see on it.