NBA Playoffs: Miami Heat vs. Boston Celtics Game 2 Injury Updates, Lineup and Predictions
Published 09/17/2020, 4:30 PM EDT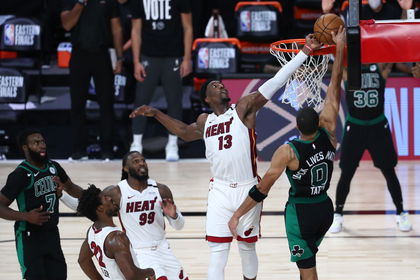 ---
---
What we thought would be a fatigued Boston Celtics team facing a well-rested Miami heat turned out to be a major nail-biter Game 1. Ultimately, the match had to go into overtime to determine a winner. Now, with Miami Heat in the lead, the Celtics need to bring back their rhythm. Although both teams traded blows for the most part of the game, the Heat threw the last punch.
ADVERTISEMENT
Article continues below this ad
Miami Heat injury updates and lineup predictions
Miami Heat has shown offensive and defensive prowess throughout their playoff run this season. In addition, they may have selected key players, but they know exactly how to run the team on the court. Goran Dragic was their top scorer for game 1, dropping 29 points and 7 rebounds. Not only that, but he also had plenty of help from Jimmy Butler, who contributed plenty of clutch plays down the stretch.
ADVERTISEMENT
Article continues below this ad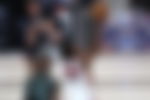 Talking about the defense, Bam Adebayo's spectacular game-winning block on Jayson Tatum's dunk was a sight to watch. Jae Crowder also proved to be an excellent addition by scoring 22 points and grabbing 5 rebounds. The only area they could improve upon is defending Tatum around the perimeter. Rookie guard, Tyler Herro's performance was a testament to what their young players can achieve as well. With only Chris Silva (pelvis) still out, the heat has a healthy roster at their disposal.
The predicted lineup would be Jimmy Butler, Bam Adebayo, Jae Crowder, Goran Dragic, and Duncan Robinson.
Boston Celtics injury updates and lineup predictions
The Celtics need a minute to analyze their previous game. They were average down the stretch and continuously threw clumsy three-pointers. A performance like this won't help them make it to the NBA Finals after almost a decade. They did not beat the defending champions to go back without putting up a better fight.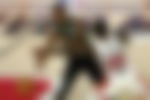 Jayson Tatum led the way for the Celtics, but they still need to figure out how to make Kemba Walker get-going. Walker can be one of the most threatening players, but he has lost his mojo since their series against the Raptors. Their defense was no less of a problem, which the Heat took full advantage of. The return of their shooting guard, Gordon Hayward, is still hanging in the background and one shouldn't hold their breath on it.
ADVERTISEMENT
Article continues below this ad
The predicted lineup would be Jayson Tatum, Kemba Walker, Daniel Theis, Marcus Smart, and Jaylen Brown.
Game predictions
Hayward's involvement could play a huge role in the Celtics' fate. There is no doubt the Celtics know what's at stake and will probably look to level the series. To be fair, they entered this series after playing a tiring seven games against the Raptors. Look for the Celtics to make a comeback in game 2 of the ECF.
ADVERTISEMENT
Article continues below this ad
Will Celtics be able to make the required adjustments to even it out, or will the Heat walk away with a 2-0 lead?