Ridiculous Playoff Stats Which Prove Why Michael Jordan Is Still the King of NBA and Basketball
Published 03/30/2020, 1:53 PM EDT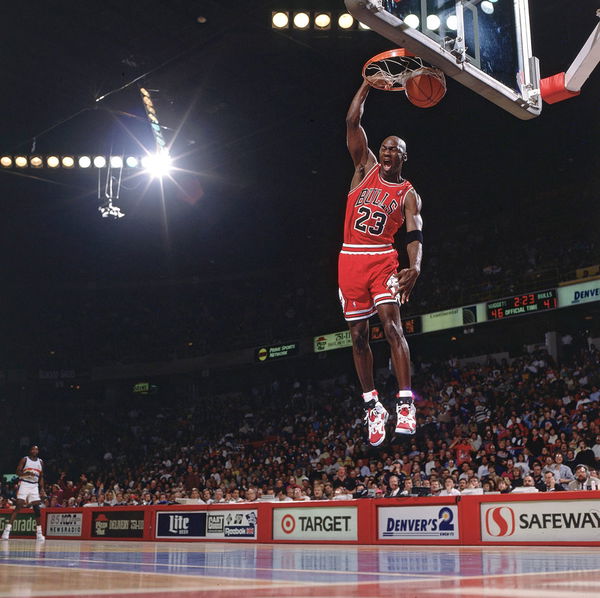 ---
---
Michael Jordan is one of the greatest of all time or probably the greatest ever. And there is no doubt in anyone's mind about that. By chance, if you are one of those doubters then welcome to this article. Here we will be discussing how much – clutch that man was during all his career. To see an NBA player' clutchness, you have to judge him by the big matches that he has turned the tides on. And obviously, there is nothing bigger than playoffs in the NBA.
ADVERTISEMENT
Article continues below this ad
So, let's jump straight into the MJ's scary playoff records. Michael Jordan holds the crucial all-time playoff points per game record with 33.5. Talking about points averaged in playoffs, Jordan also holds all-time record of career average 30.12 points per game. Talking in the perspective of other players, the nearest one(active) to the MJ playoff record is Kevin Durant with 29.09.
In the playoffs, Jordan was so lethal that he still (after 34years) has the all-time record for most points ever in a playoff game with 63 vs. the Boston Celtics in 1986. Not to forget, this was Jordan's first-ever game in the playoffs where he scored 50 plus.
ADVERTISEMENT
Article continues below this ad
Michael Jordan: The King of playoffs
Even when it comes to 40 plus scores, Michael Jordon still holds the insane record of 38 playoffs matches where he thumped 40 plus points. The next best is from LeBron James who has done this feat 27 times.
Most 40+ point games in the playoffs
➖➖➖
Michael Jordan – 38
LeBron James – 27
Jerry West – 20
Elgin Baylor – 14
Kobe Bryant – 13
Wilt Chamberlain – 13
Shaquille O'Neal – 12
Kevin Durant – 11
Hakeem Olajuwon – 11
Allen Iverson – 10
Kareem Abdul-Jabbar – 9
James Harden – 8

— Hilltop Hoops (@HilltopNBA) March 30, 2020
ADVERTISEMENT
Article continues below this ad
In the 1991 Finals vs LA Lakers, Jordan scored the 13 consecutive field goals without a miss. That was in Finals but it is also an all-time playoff record.
Jordan also holds the record for the most points in a three-game playoff series with 135 (45.0 ppg). This record can now never be broken as series now go to seven games and not five like before.
Other records of Jordan in playoffs:
Most points in a five-game series with 226 points vs Cleveland in 1988 (45.2 ppg).
Most field goals in a six-game series, during 1993 NBA Finals vs Phoenix Suns.
Record eight 50-plus point playoff games.
The all-time playoff record for the most 30-plus point playoff games with 109.
He has 173 playoff games under his belt where he has scored 20-plus points.
Only player in NBA history to never once score under 15 points in any playoff game he ever played in.
The only player ever to score 50-plus points in back to back playoff games is Jordan. Notably, he scored 50 & 55 vs. Cleveland in 1988.
He has scored 45 points or more in a record three straight playoff games.
His 179 straight(all his playoff games ever) were above 15 points. Not to mention, but this is also an all-time record.
He has the highest ever scoring average in a Finals series with 41.0 ppg in 1993 vs Phoneix Suns.
Jordan won 6 championships in 6 finals he played in. And not to forget the most important all-time record of Jordan i.e his six Finals MVPs win.
ADVERTISEMENT
Article continues below this ad
These records are the testament of the man and the myth which walked on the basketball court ages ago. Players might come and go, but the greatness behind the name of 'Michael Jordan' will stay on forever.