NBA: San Antonio's Kawhi Leonard named KIA NBA Defensive Player of the Year
Published 04/24/2015, 4:57 AM EDT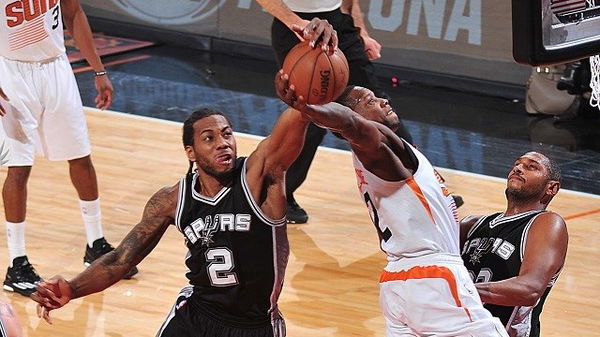 ---
---
Kawhi Leonard was named the KIA NBA Defensive Player of the Year on Thursday.  The reigning NBA Finals MVP edged out Draymond Green of the Golden State Warriors. Leonard received 33 first place votes to Green's 45. However, he accumulated 333 total points beating the Warriors star who could only amass 317 points. DeAndre Jordan of the Los Angeles Clippers finished third with 261 points (32 first-place votes).
A selection panel of 129 NBA writers from the US and Canada voted for the award. Players were awarded five points for each first-place vote, three points for each second-place vote and one point for each third-place vote received.
Leonard became only the sixth forward to lead the league in steals (2.31); he also posted career highs in points (16.5), rebounds (7.2), assists (2.5) and minutes per game (31.8). He becomes the first San Antonio player to be named the best defensive player since David Robinson was honored in 1991-92. The 23 year-old forward helped Spurs achieve the league's 3 best defensive efficiency rating as they allowed only 99.6 points per 100 possessions.  This number dropped to 97.1 points when he as on the floor and zoomed to 102.2 points during the month he missed time due to a torn ligament in his right hand.
Watch This Story
The San Antonio Spurs are currently playing the Los Angeles Clippers in the first round of the NBA Playoffs. Leonard helped the Spurs level the series at one apiece providing stellar defense on Chris Paul and adding 23 points and 9 rebounds. The series resumes on Saturday at 7:00 AM (IST).