NBA Throwback: A Thriller First Round Battle Between LA Clippers and San Antonio Spurs
Published 03/29/2020, 5:00 AM EDT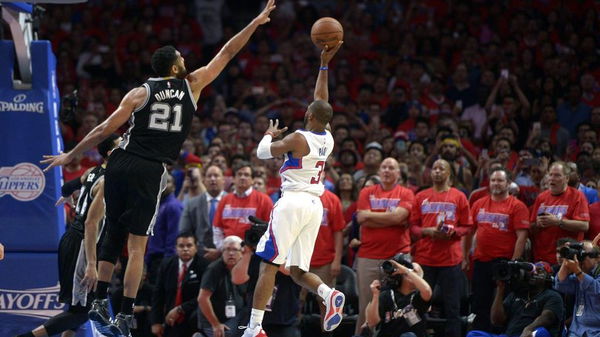 ---
---
Non-Final Playoff-series has a certain charm to it. Battling it out with your conference rivals to claim a place in NBA Finals will never get old. The history, the passion, the thrill and the excitement which comes with these kinds of series are unmatchable. The stronger the conference is, the more the odds of cliff-hanging matches happening are. The series which we would be covering today is also a great example of one of those 'narrow escape' which we witness in prison-escape movies. Yes, we are certainly talking about the clash between the LA Clippers and San Antonio Spurs in the 2015 Western Conference First Round.
ADVERTISEMENT
Article continues below this ad
This series is an example for those people who takes the first-round playoff series in a light manner. From nail-biting matches to Game 7 excitement-this series had it all. So without any further ado, let's jump into this iconic encounter.
San Antonio Spurs vs LA Clippers, NBA Game 1(92-107)
ADVERTISEMENT
Article continues below this ad
No. 3 seeded LA Clippers comfortably won the match. Chris Paul was the man on mission for Clippers as he scored 32 points for the team, while his teammate Blake Griffin added 26 points and 12 rebounds. Clearly, the defending champions and No. 6 seeded Spurs had no positive to hold in this match.
Here are the highlights from the match, do look for that filth of a dunk from Griffin over Aron Baynes in the third quarter.
http://https://www.youtube.com/watch?v=5md95KEp9l4
San Antonio Spurs vs LA Clippers, Game 2(111-107)
Defending champions did strike back in this game. Thanks to the man who is still aging like 'fine wine' and now retired Spurs legend Tim Duncan. Tim finished this match with 28 points and 11 rebounds. His 'bank shot' completely outshone Griffin's 29 point effort and 15 rebounds of DeAndre Jordan for Clippers. Kawhi Leonard also added 23 points for Spurs in the game. And yes, this match also did go to the over-time. Series now level at 1-1.
http://https://www.youtube.com/watch?v=PHjmI18vSl4
San Antonio Spurs vs LA Clippers, NBA Game 3(100-73)
If you are a sucker for awesome blocks and brilliant defensive tactics in a game. Then this is it. Spurs displayed their classic defense and completely dominated the Clippers from start to finish. Matter of fact, they never trailed during this game. This defeat was the worst playoff loss in Clippers' history. Kawhi Leonard came big for LA side as he scored his(then) highest playoff haul of 32 points in the game. Notably, Kawhi bagged the NBA defensive player of the year a day before this game. Oh, the sweet Irony. Spurs take the lead for the first time in this series, 2-1.
http://https://www.youtube.com/watch?v=KqCv1X8fZJQ
San Antonio Spurs vs LA Clippers, Game 4(105-114)
Clippers return to life in Game 4 with help from Chris Paul's 34 points and seven assists. While Blake Griffin adding the tally with his 20 points and match-high 19 rebounds. Clippers took their retribution from Spurs for that humiliating Game 3 defeat. Tim Duncan scored 22 points and 10 rebounds while Kawhi Leonard bagged 26 points for LA side but the duo of Paul and Griffin was just too much for Spurs to handle. Series now level at 2-2.
Relive the God mode from Chris Paul here:
http://https://www.youtube.com/watch?v=flxlxNb7io4
San Antonio Spurs vs LA Clippers, NBA Game 5(111-107)
Game 5 was huge for both Spurs and Clippers' DeAndre Jordan. Thanks to the Jordan 'Basket interference' on Griffin shot, Spurs got a crucial advantage in the last minute of the game and buried 3 FTs to seal the game. This instant happened when only 4.3 seconds were remaining on the clock. Clearly, Spurs had all the luck and margins that they needed in the game. 5 time NBA champion, Tim Duncan scored 21 points for Spurs while 'villain of the match' Jordan had 21 points and 14 rebounds for Clippers. Spurs now lead 3-2 in the series.
http://https://www.youtube.com/watch?v=SqWNgYMfNFk
San Antonio Spurs vs LA Clippers, Game 6(96-102)
LA Clippers definitely knows how to fly from ashes and they proved it in this match. The duo of Blake and Paul again came to the rescue for LA. Blake Griffin scored 26 points and 12 rebounds while Chris Paul bagged 19 points and threw 15 helpers in a thumping victory over veteran Spurs. With this win, Clippers forced a Game 7 in their first-round series. Series now level at 3-3.
San Antonio Spurs vs LA Clippers, Game 7(109-111)
A classic. This match shaped the meaning of entertainment in the first-round series. The play involving Chris Paul putting the shot over Tim Duncan became iconic as it lifted Clippers to a very wild Game 7 victory, all this with just a second left on the clock. Paul who had a hamstring injury in the game scored 18 of his 27 points in the second half, including four clutch 3-pointers. For Spurs, Duncan scored 27 points and 11 rebounds, his sixth double-double of the series.
After the match Clippers coach Doc Rivers said Paul is "just a tough kid. He's a street fighter. I mean, he really is. I love him to death because of his will." Spurs legend Tim was also all praise for Paul after the game. He said Paul's shot was "just unbelievable. I know he was playing a little hurt, and he played through all that, found ways to get it done. I mean, just an unbelievable last shot over two of us. He's just a great leader, and it was amazing to watch. I wish I wasn't on the other end."
Here are visuals from Chris Paul going full Saiyan mode:
ADVERTISEMENT
Article continues below this ad
http://https://www.youtube.com/watch?v=-WSm1upEx5Q
Notably, this run of Clippers was ended by Houston Rockets in the next round. The champion of the 2015 Western Conference and NBA were the Golden State Warriors who defeated Cleveland Cavaliers from Eastern Conference. 2015 was also the starting of the Golden State Warriors Dynasty and their rivalry with Cleveland. Cleveland and Warriors then faced off in 4 consecutive NBA Finals(2015-2018). LeBron James' side was able to win 1 championship while Stephen Curry and later Kevin Durant led Warriors bagged 3 Championships during that period.
ADVERTISEMENT
Article continues below this ad
Talking about the current scenario, the LA Clippers were looking pretty strong this year. The dynamic duo of Kawhi Leonard and Paul George led them to the second position in the Western conference before the NBA suspension.