NBA Throwback: Relive the Final Battle Between Kobe Bryant and LeBron James
Published 03/26/2020, 2:44 AM EDT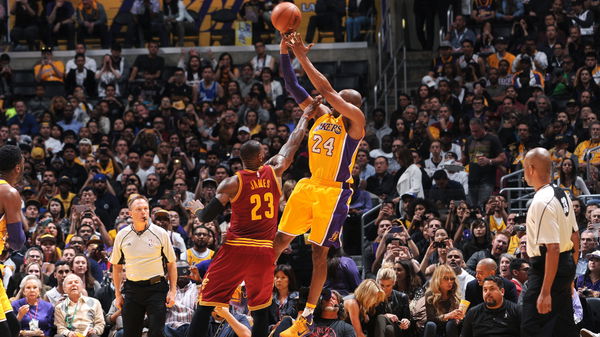 ---
---
Kobe Bryant and LeBron James' last duel was the perfect end to 12 years of the rivalry between them. The last face-off between two basketball legends surpassed all standards set by the two men. Safe to say, LeBron James enjoyed his time at the court that day. From witnessing a classic fake shot from Kobe to sprinting down with him on the court, he basked in those moments for one last time.
ADVERTISEMENT
Article continues below this ad
This match between two stars happened on 11th March 2016, where the Eastern Conference leaders Cleveland Cavaliers defeated LA Lakers by 120-108. Kobe Bryant scored 26 points in the game with 2 assists and 5 rebounds, while LeBron scored 24 with 7 assists and 5 rebounds.
After the match at Staples Center, LeBron James said, "I wish I could play against him every single night. Just that competitive juice, that feeling of just going against one of the greatest, you can never take that for granted."
ADVERTISEMENT
Article continues below this ad
When asked about their bout, Kobe replied, "It was just fun. I enjoy the physicality of it. Playing against him is fun because of his size. It's always fun to bump with him and to have that physicality, backing him down and driving and bumping. That's fun."
Here are the highlights from the last match.
ADVERTISEMENT
Article continues below this ad
http://https://youtu.be/unAwziX-tsA
Kobe Bryant and LeBron James
Years have passed since that last meeting, and things have changed drastically for both LeBron and Lakers. James, who now plays in front of Lakers nation, is looking for the 4th ring with the West Coast side. In the 2016 season, LeBron James led Cleveland miraculously defeated Golden State Warriors after going down 3-1 in NBA Finals. Notably, Golden State Warriors won record 73 matches in that season.
ADVERTISEMENT
Article continues below this ad
Since that last meeting with LeBron, Kobe Bryant witnessed some of the greatest moments of his life. The LA Lakers star started giving more time to his family and daughters, and was looking happier in his second phase of life. He also won an Oscar for his short film 'Dear Basketball'. And as things stand, for now, he is hooping in the afterlife and doing his classic fake-pump shot on the heavenly courts.