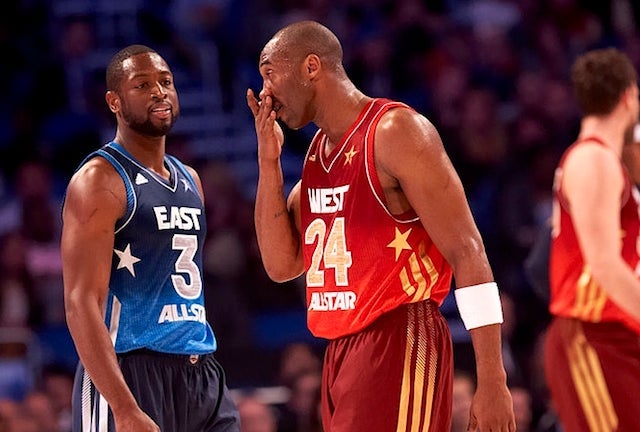 An All-Star game isn't the place where you generally experience rough fouls. But Kobe Bryant was on the receiving end of one from Dwayne Wade during the 2012 NBA All-Star game.
Bryant was making his 14th consecutive All-Star appearance for the Western Conference team. Wade was playing alongside the likes of LeBron James and Carmelo Anthony in the Eastern Conference team. When Kobe was driving towards the rim in the third quarter, Wade's attempt to stop him had hurt Bryant.
Bryant had his nose bleeding in the game but continued playing the game and his team won by three points.
The Los Angeles Lakers later announced on their website that Bryant suffered a nasal fracture.
A foul of such intensity isn't a trait of an All-Star game. Players generally refrain from risky commitments to prevent injuries. Wade's actions on Kobe did not get a pleasant reception. Fellow players were quick to express their unhappiness as the game ended in a three-point victory for the Western Conference team.
"It was an All-Star Game," Andrew Bynum, Bryant's teammate in Western Conference All-Star team, said. "I don't understand what that was all about. It was crazy."
Big man Pau Gasol said: "I think it was out of place, out of line, for the moment and the game that it was, but I don't think he intended to break his nose. He just fouled him kind of hard there and got his nose. But again, I don't think it was the place to foul like that."
Kobe Bryant being Kobe Bryant, he came back
After the All-Star game, the Lakers were to play Wade's Miami Heat. After his nasal fracture, the Mamba not only came back to play but also got the better of Wade. He finished with 33 points in a game where Wade made four fourth-quarter fouls on him. It was a typical Kobe Bryant performance after what happened in the All-Stars.