NBA Trade Rumors: Celtics Interested in the Rockets' Clint Capela
Published 02/03/2020, 10:23 PM EST
By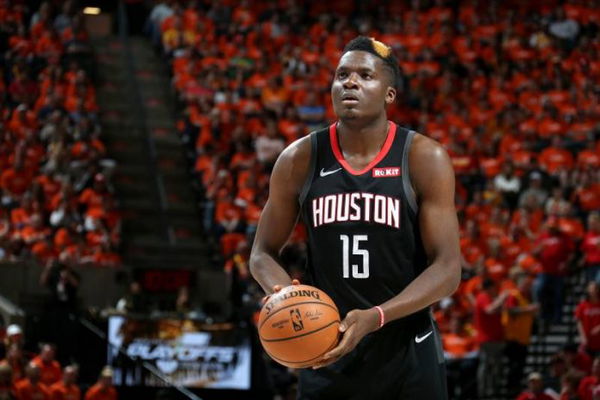 The Houston Rockets are actively shopping Clint Capela to the Eastern Conference teams. Capela has been linked to the Atlanta Hawks. Now, According to Adrian Wojnarowski, the Boston Celtics are another team that's interested in trading for Capela.
ADVERTISEMENT
Article continues below this ad
The Swiss Centre is having another fine season with the Rockets. He's averaging 13.9 points, 13.8 rebounds and 1.8 blocks a game. Capela is shooting an efficient 63% from the field as well. Capela is the main rim protector of the Houston Rockets. He's having a team-high defensive box plus/minus score of 2.4.
Capela is on a flexible contract. He will earn $72 million between the 2019-20 and 2022-23 seasons. It entices other teams to trade for him. His contract is not financially burdensome on teams.
ADVERTISEMENT
Article continues below this ad
Clint Capela and a Possible Move to the Boston Celtics
The Boston Celtics have emerged as another trade partner for Capela. The Celtics are in desperate need of a centre and rim protector. Enes Kanter and Daniel Theis have been the rotating centres minutes in the Celtics lineup.
However, since losing Al Horford and Aaron Baynes in the off-season, the Celtics rim protection has been minimal and weak. The addition of Capela would remedy a chronic issue for the Boston Celtics this season. A strong big man to anchor their paint.
ADVERTISEMENT
Article continues below this ad
In terms of assets, the Celtics have adequate draft assets to entice the Rockets for Clint Capela. They have multiple first-round picks in 2020 and 2021. They have their own set of picks until the 2026 draft. It would fit with the Houston Rockets aim of acquiring assets to flip for a wing player.
The Rockets might want at least Daniel Theis as part of the package.
Capela should be a fine addition to the Celtics if this trade goes through. Boston possesses the 2nd best defence in the league. Capela's addition would add much-needed rim protection, creating possibly the best defence in the league.
ADVERTISEMENT
Article continues below this ad
The Rockets Owner, Tilman Fertitta is keen to reduce the Rockets payroll and avoid the luxury tax. Acquiring Theis and moving Capela, would greatly reduce their payroll and bring them under the limit.
At $136 million, the Houston Rockets payroll is amongst the highest in the NBA. The reluctance of the owner to want to go into the luxury tax is quite possibly a key factor in wanting to trade Capela this season.