NBA Trades- 2015
Published 07/04/2015, 1:44 PM EDT
By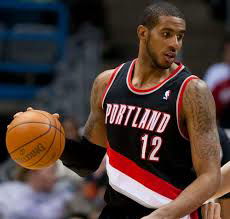 The hottest deals of the recent NBA trades took place a few days ago. The highlights of the trades are:
The New York Knicks are enthusiastic to have the signature of 7 feet centre Robin Lopez of the Portland Trail Blazers and have reportedly offered the talented 27-year-old an irresistible sum of 12-13 million dollar per season. With the hopes to increase the offensive frontcourt, the Knicks kept doors open for Clippers big man DeAndre Jordan and have already struck out on LaMarcus Aldridge and Greg Monroe. Lopez has been playing for Blazers since 2013, successfully completing two seasons with an average statistics of 9.6 points per game, 1.4 blocks and 6.7 rebounds and numbers shot up to 10 points and 1.8 blocks. The Lakers were also seriously considering their options to sign in Lopez.
In another headline revolving around Blazers was the contract extension of 6'3'' point guard Damian Lillard with the Blazers. The 24-year-old settled at approximately $125-129 million deal for a period of over 5 years. He has had an impressive record in his previous two seasons, in both of which he was an All-Star. In the last 82 games for the 201-15 season he averaged at 21 points and 6.3 assists per game in the previous season with the Blazers which led them to the playoffs. Lillard wears the jersey number #0, representative for the letter 'O' and his journey in life; from Oakland, to Ogden, and now Oregon. Portland also confirmed the signing in of 6' power forward from the Lakers for a three-year twenty million dollar deal. When he played for Lakers in the previous season he averaged at 8.3 points, 7.6 rebounds and 1.2 assists in 23 minutes of play time.
ADVERTISEMENT
Article continues below this ad
Thomas Robinson has accepted the Brooklyn Nets offer under which the 6'9'' power forward will be playing for the next two years for Nets. The Nets had shown curiosity in Robinson last year when he was waived by the Denver Nuggets, but he was unfortunately appealed by the Philadelphia 76ers. Robinson was a lottery pick in the 2012 NBA Draft out of Kansas by the Sacramento Kings. The player played for two different teams in the 2014-15 season i.e. the 76er's and the Blazers wherein he played 22 and 32 games respectively. He has averaged his career at 5.1 points per game and 4.8 rebounds per game. Brooklyn Nets also convinced Shane Larkin for a two-year,3 million dollar deal who spent the 14-15 season with the New York Knicks. Larkin is believed to give the Nets depth in the backcourt though they also currently have Deron Williams, Steve Blake and Jarrett Jack.
Washington Wizard has agreed to trade Jared Dudley. The 6'7'' small forward opted into his $4.25 million contract with the Milwaukee Bucks on the final day before free agency. This step has made it possible to replace Pierce. The sources and analysts agree to the fact that Bucks have received a highly secure future round pick that almost will certainly become second rounder. He averaged at 8.5 points, 3.5 rebounds and 1.5 assists in his career which started in the year 2007 when he was drafted for Bucks.
ADVERTISEMENT
Article continues below this ad
Another speculation surrounding the American Airlines Centre was that of 6'4'' shooting Guard and Miami star man Dwayne Wade. Wade pledged loyalty to his team and Miami fans agreed to re-sign with the Miami Heat on a one-year, $20 million deal. However sources claim Wade opted out of his contract for the 2015-16 season. Wade was initially keen to sign a long-term deal with the Heat. Although he plays shooting guard he has also the ability to play as a point guard as he did when it was rookie season and when matched up against smaller line-ups. He has proven himself an unselfish player, averaging 6.1 assists per game throughout his career. After winning the NBA Finals MVP Award in 2006, Wade developed a reputation as one of the premier clutch players in the NBA. He has gained a reputation for being capable of hitting game winning baskets and potential game winning free throws. In his 12 seasons, all with Miami Heat, he has dominated the board with 24.1 points per game. "The Heat family and I have shared incredible moments over the years and I look forward to continuing our journey"  Wade said. The Miami Heat are also eager into pursuing a meeting with Portland 6'11'' centre LaMarcus Aldridge in free agency, for he had an impressive playoff record of 21.8 points per game and 11.8 rebounds in average play time of 40 minutes. Miami would need to agree upon a sign-and-trade with the Portland Trail Blazers to acquire Aldridge.
Sacramento Kings have reportedly offered a 3 year, 45 million dollar deal for the Portland guard Wesley Matthews. "We have had him under our radar for quite a few days, he is an impressive player to watch for "said Kings General Manager. He caught the eye of Kings when he had an impressive 2014-15 season with the Blazers averaging at 16 points and 3.7 rebounds per game. However, sources close to the player have informed that the player is likely to join Dallas Mavericks rather than Raptors or Kings as he sees his future there. The Mavericks are considered favourites to sign him. Currently the player is out of action and is recovering from torn Achilles.
To the dismay of his Indiana Pacers fans, David West has moved on and opted out of the contract with the team, with hopes of bringing the title home for the team that he'll sign up. He is quite confident of his performance and requires a winning environment to play in. Sources say that he has been linked to San Antonio Spurs or Washington Wizards. He has also appeared in All Star Games. He has a career average of 15.5 points, 7.2 rebounds and 2.3 assists for a 12 season career for teams like New Orleans Pelicans, City and Indiana. West is also excited to join the title contenders of the previous season Golden State Warriors.
ADVERTISEMENT
Article continues below this ad
In an unofficial report Matthew Dellavedova and Cavaliers are close to settle on the former's 3-5 million dollar deal. The Australian shooting guard is a restricted free agent. Analysts and team managers believe that he is an effective backup guard for the Cavs. He helped the Cavaliers reach the NBA finals and was impressive in the playoffs also where he averaged at 7.2 points a game and 2.7 assists in 25 minutes of playing time.
A $100 million deal is set to take place between Memphis Grizzlies and their Spanish star man centre Marc Gasol. The deal will allow Gasol to play for the Grizzles for the next 5 years. The Grizzlies official confirmed the unofficial reports when they went to Barcelona, the home of Gasol. When he had a free agency many teams including rivals ran to get his signature but, sources close to player say that he is expected to play for the only team he started with i.e. Grizzlies. He averaged at 14.1 points and 7.9 rebounds in the regular season and 16.9 points and 9.2 rebounds for 34 minutes he played in all throughout his career where he played for Grizzlies.