"I Don't Give a F*** About Basketball": When Conor McGregor Was Called a Clown by NBA Star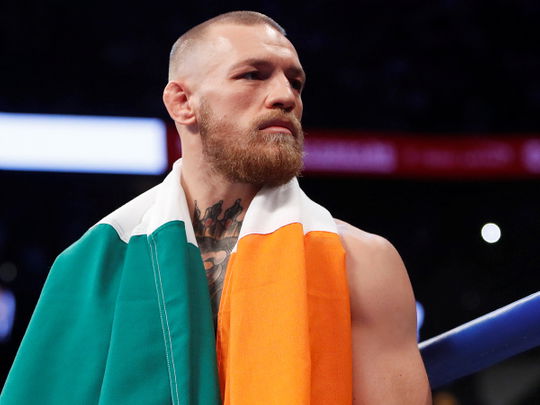 UFC superstar Conor McGregor and NBA's Draymond Green once got into beef on social media in 2017.
It was the time when McGregor was to fight one of the biggest fights in his career. He was to fight Floyd Mayweather. The beef started with Green's comments on McGregor wearing a Warriors jersey. The UFC star had recently released a video in which he was wearing a No. 23 Warriors jersey. Although it was a vintage jersey, Green, who sports the same number for the Warriors, might have mistaken it for his jersey.
"We rocking with Floyd bro not you… take that off bruh @thenotoriousmma," Green commented on McGregor's post. Mayweather noticed the comment and acknowledged Green's support. "Splash for the cash," Mayweather wrote followed with the hashtags #warriors and #michigan.
McGregor also didn't take long to reply to Green. The Irishman not only clarified that it was CJ Watson's but also made sure he further took a shot at Green.
"That's C.J Watson mate," McGregor wrote. "I don't know who the f*** you are. No disrespect tho kid, keep hustling and stay in school. Now ask yourself why I'm rocking C.J when I don't know or give a f*** about basketball. I dribble heads off the floor. Not a ball. This is no game here kid."
Tbt to when Draymond Green thought Conor Mcgregor wouldn't respond back 🤣🤣🤣🤣🤣 @TheNotoriousMMA pic.twitter.com/nxjCSCicuz

— Arthur Morgan (@AfricanJonSnow) April 22, 2020
Draymond Green had more to add against Conor Mcgregor
It did not end as Green had more to add to the conversation. It was the basketball star's chance to hit back. Green was by then a two-time Champion and the had just won the Defensive Player of the Year. Replying to McGregor, he felt that the Warriors would probably retire his jersey and called the Irishman an "internet troll".
"Hahaha that number won't be worn again when I am finished with it clown! Gold medalist, NBA Champ, all-star, DPOY, etc!!! Hahaha stop it boy! Nate Diaz (Bay Area stand up) whooped you in your ring! Take that Warrior jersey off bruh you're an incredible internet troll. We don't rock with you! Go train bum!!" Green wrote.
The conversation seemed to have ended there and McGregor lost to Mayweather in what was one of the biggest fights in combat sports history.
Continue the conversation on the app, join other MMA fans on MMA Fans App