Rudy Gobert Joked about Coronavirus Before Positive Test
Published 03/12/2020, 7:13 AM EDT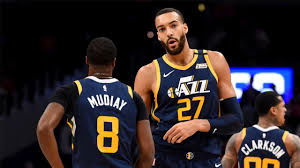 ---
---
They say life comes at you fast. And it can not be more true than in the case of Rudy Gobert. Rudy Gobert, who reportedly  tested positive for coronavirus on Wednesday, touched reporters' recorders jokingly during media availability just two days ago. This incident happened when he was on his way to the team's shootaround.
ADVERTISEMENT
Article continues below this ad
This joke proved no good to Utah's center.
NBA is suspending its season "until further notice" after Rudy Gobert of Jazz reportedly contracted the #coronavirus. What has make it worse is that he deliberately touched all the mics a few days ago during a press briefing to tell the public that the disease was not a big deal. pic.twitter.com/sSd97adIxr

— Ezra Cheung (@ezracheungtoto) March 12, 2020
ADVERTISEMENT
Article continues below this ad
Two days later, Gobert was listed as "questionable" with an illness on the team's injury report before its game at Oklahoma City. His coronavirus test result was reported before Wednesday's tip-off against the Thunder, and after the teams were pulled off the court, the game was postponed.
The ill-timed joke came on the heel of a decision by the NBA and other sports leagues to limit access to players and essential staff.
NBA Suspended after Gobert tested positive
With the NBA suspended indefinitely, all people who have been in contact with the Utah Jazz will most likely be tested. NBA's statement was made right before the Utah Jazz and Oklahoma City Thunder game began on Wednesday night. Players to executives associated with both the teams will be tested for the virus. In earlier reports, the NBA's medical staff had stated that if a player were to contract the virus, he or she would take approximately. Fans took to Twitter to express their concern as the NBA suspended all their further games. The coronavirus has now been declared as a global pandemic by WHO.
ADVERTISEMENT
Article continues below this ad
Rudy Gobert does not have suspicious travel history
An important thing to note is that Utah's center has not traveled to any country in the past few weeks.
This fact fuels the argument that he must have gotten the COVIN-19 from someone around him. If that's the case then NBA has got some huge task in front of them.
ADVERTISEMENT
Article continues below this ad
Rudy Gobert didn't travel to another country in the last couple weeks.

He got coronavirus from someone else around him.

Which means probably a lot of people have it around him.

A Europe travel ban won't stop the pandemic in America. It's already here.

— Grant Liffmann (@GrantLiffmann) March 12, 2020