WATCH: Steph Curry Reflects on the Impact Klay Thompson Had on His Career
Published 01/19/2020, 7:26 AM EST
By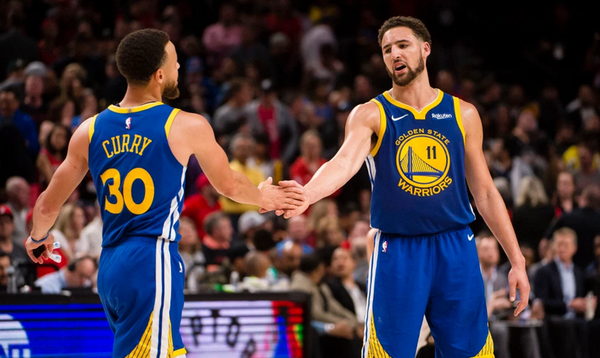 Steph Curry was asked about the impact Klay Thompson has had on his career in the NBA. Steph Curry, paying homage to his splash brother, said that without Thompson's his career would have taken a different path. Curry and Thompson were key players for the Golden State Warriors during their 2014-19 era of dominance.
ADVERTISEMENT
Article continues below this ad
Curry was asked this question while attending Thompson's college jersey retirement at Washington State University.
Speaking on Thompson's impact on his career, Curry was clear. His career path would have been drastically different had they not played together and developed their skill set with the Warriors. Perhaps, if they never stepped onto the court together, the Splash Brothers may not have been as lethal as known today.
ADVERTISEMENT
Article continues below this ad
You draft a guy like Klay from Washington State with so much potential… us being able to develop together
The Splash Brothers are the unquestioned NBA's greatest back-court duo. They revolutionized the NBA shooting. Together they were key members of the Warriors 2014-19 dynasty.
The Splash Brothers: Steph Curry and Klay Thompson
No doubt both Curry and Thompson will be inducted in the Hall of Fame. Both are amongst the best shooters in the NBA. Working in tandem they are much harder to stop. Their greater than 40% accuracy from 3-point is far above the league average. It helps them in spacing the floor, not only for each other but their teammates.
ADVERTISEMENT
Article continues below this ad
There are other abilities that often go unnoticed. Curry has been the better shooter of the two. This results in him making tougher contested shots or freeing up teammates for an open pass. It's why Curry has a higher scoring and assists average per game.
Thompson on the other hand, is one of the league's most underrated defenders, as an elite perimeter defender. He is a nightmare for opposing guards attempting 3-point shots. He got selected the for the NBA All-defensive team in 2019.
The most daunting aspect is both are capable of having high scoring games with astonishing field goal accuracy. Take for example Klay Thompson dropping 37 points in a single quarter against Sacramento Kings. He did so without missing a single field goal or free-throw attempt.
ADVERTISEMENT
Article continues below this ad
As it stands today, Curry and Thompson are 3rd and 18th in the NBA 3-pointers made. Their shooting has revolutionized the NBA, which has now become dominated by analytical 3-point shooting. This unleashed a new high scoring NBA era.
Currently, Klay Thompson is likely out for the season with a torn ACL. In addition, Steph Curry is recovering from a broken left hand. The next evaluation is in February. Given the exertions of their dynastic seasons between 2014-19, the Warriors might want to shut them down for the season, and unleash a rested Splash Brothers on the league.