"We Are Just playing Basketball"- When Charles Barkley Supported Former Los Angeles Lakers Being HIV positive
Published 04/19/2020, 2:02 AM EDT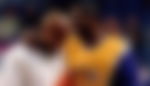 ---
---
Charles Barkley might have staged a few funny or inappropriate antics throughout his NBA career, but he also had a few inspiring moments. In 1991, he boldly stood for his fellow NBA player- Magic Johnson.
ADVERTISEMENT
Article continues below this ad
On Nov 7, 1991, Johnson announced in a press conference that he had come in contact with HIV. It was huge news. So huge that it would, after over a decade, become ESPN's seventh-most memorable moment of the previous 25 years.
For Barkley, it would be his last season with the Philadelphia 76ers. Instead of his regular No. 34, he wore No. 32 for the season to honor Johnson. The number 32 was in fact unretired by the Sixers for Barkley to wear. It was a number that William Cunningham had sported for the Sixers for nine seasons. "The kangaroo kid," as they would call him, also coached the Sixers for eight seasons.
ADVERTISEMENT
Article continues below this ad
For Barkley, whose jersey Philadelphia would later retire, wearing Cunningham's jersey wasn't a problem. However, many raised concerns of potential contact with someone HIV positive like Johnson. Barkley had a typical response for them.
"We're just playing basketball.  It's not like we're going out to have unprotected sex with Magic," Barkley would say.
ADVERTISEMENT
Article continues below this ad
The comeback of Magic Johnson
Johnson came to know about his disease in his 11th season with the NBA. By then, he had already won five NBA championships playing for Los Angeles Lakers. He won the finals MVP in his rookie season and later went on to win two more finals MVP. He was also a three-time regular-season MVP.
While he announced an abrupt retirement after knowing his HIV condition, he later regretted it. In an interview in 2011, he admitted he later wished he had not retired. "If I knew what I know now, I wouldn't have retired," he said, adding that he retired because he "didn't want to hurt the game." He did, however, participate in the 1992 Olympic Games in Barcelona where USA's Dream Team won the gold medal.
ADVERTISEMENT
Article continues below this ad
Johnson would also later stage a comeback into the NBA at the age of 36. He played 32 in the 1995/96 season, averaging 14.6 points, 6.9 assists, and 5.7 rebounds per game.