NBA Week 6 Roundup of the 2017-18 Season
Published 11/29/2017, 4:18 AM EST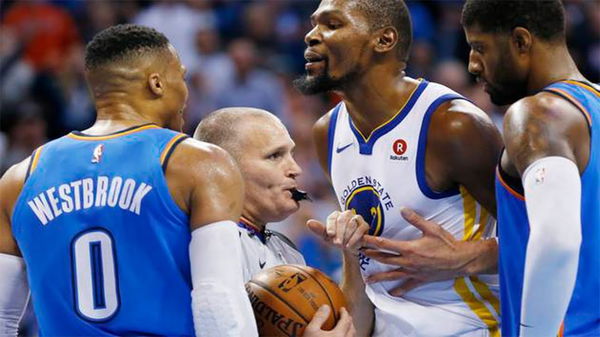 ---
---
We are now well into the 2017-18 NBA regular season. A lot of interesting things have been happening as of late. Former teammates jawing each other up, head coaches getting fired. Going into NBA Week 6, We got it all.
ADVERTISEMENT
Article continues below this ad
NBA Week 6 News
Boston Celtics' incredible 16 game winning streak came to an end against the Miami Heat on the road.
Former MVP and Cleveland Cavaliers Derrick Rose is in the midst of evaluating his future in NBA and basketball. He's missed last 12 Cavs games due to an injured left ankle. These past few injury ridden years are finally taking a toll on him mentally.
Memphis Grizzlies Head Coach David Fizdale was fired after the Grizzlies lost 8 straight games. This sudden firing shocked the entire NBA. Players and coaches took to Twitter to express their disbelief.
ADVERTISEMENT
Article continues below this ad
I need some answers. Feels like my man was a fall guy

— LeBron James (@KingJames) November 27, 2017
Cleveland Cavaliers are back to winning ways. They are currently 3rd in the eastern conference riding an 8 game winning streak.
Recent trade rumours surround Marc Gasol of the Grizzlies. This doesn't all that weird now that they've already fired David Fizdale. Potential takers include Toronto and Cleveland.
After returning to the Rockets' starting lineup last week, Chris Paul is thriving playing limited minutes. He's averaging a double-double with 12 points and 10 assists in 27 minutes per game.
NBA Week 6 Games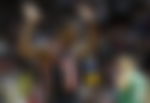 Miami Heat became the team that snapped Boston's historic 16 game winning streak. This was yet another close game down the stretch but Celtics were not able to pull it off this time. Heat led by double digits at halftime. In the second half, they upped their offence even more and Celtics couldn't do much after that. The game ended with Heat winning it by six points.
Dion Waiters and Goran Dragic took the offensive load for the Heat as they had 26 and 27 points respectively. Tyler Johnson added 16 points off the bench. For the Celtics, Kyrie Irving scored a game high 23 points. Jayson Tatum and Jaylen Brown added 18 and 14 more points respectively. Al Horford had an uncharacteristic quite night. It's worth noting that even though Celtics lost the game, their defence was still on point. As for the offence, it was an unlucky game.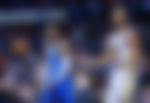 Thunder has got to be the most dicey team this season. One game, they're playing lockdown D and making it rain on the offensive end. Next game, they're turning the ball over, blowing up double digit leads. As for this game in NBA week 6, it definitely belonged to the former category.
Thunder players were game right from the start. They ran the first half like clockwork, controlling both ends of the floor. At halftime, they lead by 17 which got increased to 23 at the end of the third period. The Warriors were denied every opportunity they had to get back in the game. Russell Westbrook had 34 points, 10 rebounds and 9 assists. PG and Melo added 20 and 22 more. Warriors starting five struggled to score with only Kevin Durant(21 points) and Stephen Curry(24 points) in double digits. Warriors might be the #1 offensive team in the league but they're getting beat when the other side steps up the D.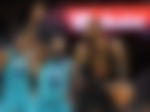 Early on in the season, the Cavs were succumbing to 4th quarter pressure. They were constantly blowing up leads and struggling at defence. Going into NBA Week 6, that was no longer the case. The Cavs have won 8 straight and most of those games were close. This was the closest, going down to the last second.
ADVERTISEMENT
Article continues below this ad
It was an even game, overall as well as quarter by quarter. No team let the other team get ahead by more than a few points. LeBron James scored a triple-double with 27 points, 16 rebounds and 13 assists. He also scored heavily in the clutch and now leads the NBA in fourth quarter points. Five other Cavs players scored in double-digits, so LeBron definitely had the much needed help to close out a game like this. For the Hornets, Dwight Howard played well, scoring 20 points and 13 rebounds. Kemba Walker had 15 points and 8 assists. Jeremy Lamb scored 11, 7 and 7. The Cavaliers are onto something here.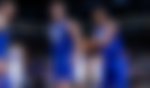 Los Angeles Clippers haven't been playing very well this season. They started the season really well and soon lost seven straight. At halftime, this NBA Week 6 game looked like it was all over for the Clips. They were trailing by 14 in an away game. That's when something snapped in the Clippers locker room and they came out to outscore the Kings 29-10 in the third quarter. They now had the lead and the momentum. The Kings were led by Buddy Hield in the fourth who was 7/9 from deep for the game. In the dying moments of the game, Hield drained two 3s and tied the game at 95-95. With the game tied, Blake Griffin sank a 15 foot fade-away jumper that left 3 seconds on the game clock. That was it for the game. Clipper finally won a game in crunch time. Buddy Hield top scored for the Kings with 27 points and Blake Griffin had 33 points for the game.
ADVERTISEMENT
Article continues below this ad
The Clippers are badly missing the services of Milos Teodosic and and Danilo Gallinari. The defensive intensity is not there in the absence of Pat Beverley. It's going to be a hard road to the playoffs this year.
Read a fantastic cross-sport article by ES here.