Wizards News: Scott Brooks Gives an Injury Update on John Wall
Published 01/20/2020, 12:06 PM EST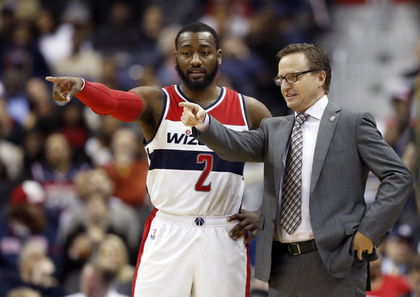 ---
---
John Wall has not played in the NBA since December 2018. After suffering a season-ending knee injury, he subsequently suffered a ruptured Achilles tendon. Wall was rumoured to miss the entirety of the 2019-20 season as well. Recently Wizards coach, Scott Brooks has said Wall's making progress. However, he was unsure if his star guard will return to the court this season.
ADVERTISEMENT
Article continues below this ad
Brooks revealed that Wall participated in 4-on-4 drills with his teammates. While controlled and not up to full speed, it's encouraging signs for the Wizards fans, who have had to endure a torrid season. The Wizards boast a 13-28 record, good enough for 13th in the Eastern Conference.
John Wall and His Unfortunate String of Injuries
ADVERTISEMENT
Article continues below this ad
Between 2013 and 2017, John Wall was one of the ablest guards in the league. He missed just 12 games out of 328 in a 4-year span. During that time he averaged a healthy 20 points and nearly 10 assists a game, establishing himself as a premier guard in the Eastern Conference.
On 30th January 2018, he suffered a knee injury, sidelining him for 2 months. He would return and help the Wizards in the post-season. On 29th December he, unfortunately, suffered a season-ending left heel injury. He underwent surgery for it. Compounding the rehabilitation, Wall developed an infection from the surgical incision, further delaying his return.
A potential career-altering blow followed. A fall in his house ruptured his Achilles tendon ruling him out for most, if not the entire 2019-20 season.
The Current State of the Wizards
The Wizards have struggled this season. With John Wall injured, the onus of carrying the team has fallen on the shoulders of his backcourt partner, Bradley Beal. The team languish 13th in the Eastern Conference with a 13-28 record. Their current strength is inadequate to land them in the post-season.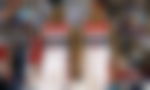 Beal recently expressed his frustration with his current situation. Without Wall in support, it's a big task to single-handedly lead the Wizards. Beal's current deal won't let him be traded this season. Next season though teams could keep an eye on the situation.
As coach Brooks commented, Wall has been making improvements. Not only has he taken part in scrimmages with the staff, but he has also now completed a 4-on-4 controlled practice session. The pace of recovery is surely going good. Brooks refused to indicate if Wall would take part in the NBA this season.
"I don't know if he's going to play this year. I don't know if he's not going to play."
When he returns, questions will be asked if Wall, a player reliant on his athleticism can perform at All-Star levels. Regardless, the progress shown by John Wall should delight Wizards fans.
The Future for the Wizards and John Wall
It presents the Wizards with an interesting situation. Presently both guards are contracted for the near future. Beal is owed over $100 million in the subsequent three seasons. Wall is owned nearly $91 million over the next 2 seasons.
ADVERTISEMENT
Article continues below this ad
If the Wizards opt to trade them, they'd get a hefty return for Beal. However, it will be harder to move Wall when he returns owing to his string of injuries. Trading the two could net them the requisite assets to initiate a rebuild.
The other option is to convince both to stay and play the primes of their career with the Wizards. Wall would need to prove his fitness to continue to lead the team. The management will have to subsequently trade for or draft players that can effectively support the two.
Whatever be the management's decision, the return of John Wall will answer the key to the Wizards future decisions. Will he return as a dominant guard or would he have to adapt his game to suit the temperament of his body?
ADVERTISEMENT
Article continues below this ad