"You'll Never Fill My Shoes" – How Michael Jordan Trash Talked Kobe Bryant
Published 03/30/2020, 4:22 AM EDT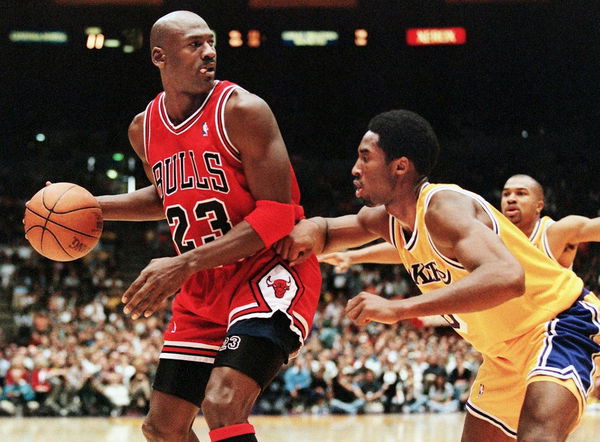 ---
---
Even if you are one of the 'Greatest of All Time', one thing which is for sure is you don't mess with Kobe Bryant. Well, Michael Jordan learned it the hard way. As described by the ex- Washington Wizards player Gilbert Arenas' Michael Jordan trolled Bryant when LA Lakers visited the Capital Center on 8th November 2002.
ADVERTISEMENT
Article continues below this ad
In that match, Wizards edged the Lakers by a margin of 1 point to 100-99 victory. MJ scored 25 points and had 3 rebounds and assists to his name. Kobe also scored respectable 27 points with 6 rebounds and 4 assists in the game but it was just not enough on the day. Gilbert described during the match Jordan came to the Bryant and hit him on the butt while saying "You can put the shoes on but you ain't ever gonna fill them". This incident clearly rattled Kobe, as he didn't talk to his teammates for almost the next two weeks.
When Lakers' lockerroom got information about this incident, they immediately felt bad for MJ. As they all knew what will happen next when they meet Washington Wizards in the league. All these scenarios were confirmed by Gilbert in 'The No Chill' podcast.
ADVERTISEMENT
Article continues below this ad
The Revenge of Kobe Bryant vs Washington Wizards
Then came the date of March 28, 2003. Lakers hosted Wizards at Staples Center and safe to say, Kobe just blew everyone out of the park that day. He scored whopping 55 points in the game, in which 42 points came in just the first half. Jordan did score 23 points and gave 4 assists to his teammates, but it was clearly too late even for MJ to come back in the game.
http://https://www.youtube.com/watch?v=gyl8ICTRg6U
ADVERTISEMENT
Article continues below this ad
Gilbert Arenas then explained how Kobe Bryant is a psycho as he did all that just because when MJ talked to him like that. And also Kobe teammates were ultimately right about 'feeling sorry for Jordan' in advance.
Now that Kobe is playing heavenly hoops, the only thing we can enjoy is these 'Kobe stories' and moments that will guide every basketball fan in general for years. Ultimately, it's just about fans who enjoy the games of these greats because no one plays to fill someone's shoes during their career. They all just want to create their own 'Air Jordan' and wear them for life. And all we could do is appreciate those moments which are happening now and witness them flying in their own shoes, someday. So, don't hate just enjoy the greatness of the games and players – till it lasts.
ADVERTISEMENT
Article continues below this ad